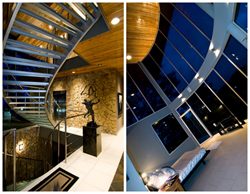 "It's a first-class villa, with a unique design and exceptional amenities, meeting the high-expectations we have for our rental properties. We expect it will become a recurring choice for guests."
Manuel Antonio, Costa Rica (PRWEB) November 20, 2014
Tulemar Vacation Homes in Manuel Antonio, Costa Rica, is offering a special rate to the latest addition on the company's portfolio of luxury vacation homes, award-winning Casa Pura Vista. For all rentals in December and January, a $1,000 discount will be applied to the regular weekly rate of $5,900, coming to a discounted rate of $4,900 per week.
The 6,000 square foot home is perched on the hillside, hovering over the lush rainforest and offers sweeping, coastline views of the Pacific Ocean. Designed by international architect Andres Morales, the home's most noticeable features are its contemporary styling and integration with its surroundings. It's strategically designed with high glass walls, maximizing views from every room.
The luxury villa includes a staff to pamper the guests, including housekeeping, a full-time private chef, and daily concierge services featuring their exclusive "Beach Concierge" for trips to the Manuel Antonio Beach. Fully furnished and decorated with contemporary art pieces, there are three bedrooms, a media room, and four bathrooms which will accommodate up to seven adults. There are large, outdoor living areas on each level, an infinity pool overlooking the ocean, an Italian-design gourmet kitchen, and an elevator for ease of access of the three levels.
"Casa Pura Vista is the latest addition to our list of luxury vacation rentals," says Dave Houck, owner of Tulemar Vacation Homes Rentals & Sales. "It's a first-class villa, with a unique design and exceptional amenities, meeting the high-expectations we have for our rental properties. We expect it will become a recurring choice for guests."
For more information on luxury vacation rentals in Manuel Antonio, Costa Rica, visit http://www.tulemar.com.