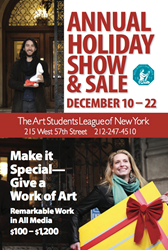 Give the gift of art!
New York, NY (PRWEB) November 24, 2014
More than 500 works are on sale at the Art Students League's Holiday Show & Sale. Every year buyers—including gift-givers, interior decorators, and art lovers buying for themselves—bring home great bargains from a wide variety of works crated by emerging student artists. Artists in the show include those represented in galleries and museum collections.
The League's Phyllis Harriman Mason Gallery is located at 215 West 57th Street (between Seventh Avenue and Broadway). Sale hours are Monday through Friday: 9:00 a.m. to 8:00 p.m., and Saturday and Sunday: 9:00 a.m. to 4:00 p.m. Please note that the gallery closes at 4:00 pm on December 22.
For more information call 212-247-4510, ext. 101, or e-mail info(at)artstudentsleague(dot)org
About the Art Students League of New York:
The Art Student League of New York's mission is to establish and maintain an academic school of art, which shall give a thorough course of instruction in drawing, painting, printmaking, and sculpture; to cultivate a spirit of fraternity among art students; and to train students who intend to make art a profession. The League offers affordable studio art classes to anyone wishing to learn the language of art and produces cultural programs for artists and the public including free lectures and exhibitions.
Founded in 1875, the League has been a center of learning for 250,000 art students and instructors. Its impressive history places it in the forefront of American art from the late nineteenth century to today. Among many well-known artists who studied or taught at the League are Georgia O'Keeffe, Norman Rockwell, Hans Hoffman, Jackson Pollock, Mark Rothko, Al Hirschfeld, Roy Lichtenstein, Romare Bearden, James Rosenquist, Lee Bontecou, Ai Weiwei, and others who virtually drew the map of American and international art in the twentieth century.