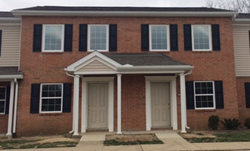 Having worked with RED in the past, we understood they could help structure a financing package that would benefit everyone and allow us to move forward with this important rehabilitation.
COLUMBUS, OH (PRWEB) November 20, 2014
RED Mortgage Capital, LLC, the mortgage lending entity of comprehensive capital provider RED CAPITAL GROUP, LLC, announced today that it recently provided an FHA insured 221(d)(4) mortgage loan for the substantial rehabilitation of Harrisburg Station Apartments in Grove City, Ohio for Colonial American Development Corporation (CADC). The FHA insured loan was provided as part of a complex financing package that also included 9% Low Income Housing Tax Credits (LIHTCs) along with Flex and Housing Development Assistance Program (HDAP) loans provided by the Ohio Housing Financing Agency (OHFA).
Harrisburg Station is an existing 60-unit, 100% Section-8 apartment complex that was originally constructed in 1972. The rehabilitation will ensure that the project will continue to provide quality affordable housing for its residents by generating over $44,000 per unit to be spent on repairs and improvements.
These improvements will include replacement of windows, doors, flooring, kitchen cabinets, countertops, vanities and appliances, as well as the installation of new Energy Star® split-system heat pumps. Overall, the rehabilitation will greatly enhance the individual units and site, provide increased energy efficiency to the project and bring all aspects of the project into compliance with applicable codes.
"Building and preserving safe, quality affordable housing to residents of Ohio has been a priority for CADC for over 35 years," said Randall Palmer, President of CADC. "Having worked with RED in the past, we understood they could help structure a financing package that would benefit everyone and allow us to move forward with this important rehabilitation."
James C. Flinn, Managing Director at RED, said, "It was a pleasure continuing our relationship with Colonial American, especially for a project in our own backyard that will be such a benefit to the Grove City community. Our partnership with HUD, the Ohio Housing Finance Authority and Ohio Capital Corporation allowed us to close this complex transaction in a timely manner and, in doing so, preserves affordable housing for years to come."

About RED CAPITAL GROUP, LLC
Recognized for its industry expertise, innovative and comprehensive structures, and consistently high rankings, RED CAPITAL GROUP, LLC has provided over $55 billion of integrated debt and equity capital since 1990 to the seniors housing and health care, multifamily, affordable, and student housing industries through three operating companies. RED Mortgage Capital, LLC is a leading Fannie Mae DUS® and MAP- and Lean-approved FHA lender with a mortgage servicing portfolio of almost $16.6 billion. RED Capital Markets, LLC (MEMBER FINRA/SIPC) is a leader in the distribution of Fannie Mae and Ginnie Mae Project MBS, and provides structuring, underwriting, placement, and advisory services for tax-exempt and taxable housing and health care bonds. RED Capital Partners, LLC provides proprietary debt and equity solutions, and asset management in a range of forms, including subordinated gap and bridge loans. RED CAPITAL GROUP, LLC is a subsidiary of ORIX USA Corporation. For more information on RED CAPITAL GROUP, LLC, visit http://www.redcapitalgroup.com.
About ORIX USA Corporation
ORIX USA Corporation is a diversified financial company with approximately $6 billion of assets in sectors spanning commercial finance, venture finance, commercial real estate and public finance, as well as $25 billion of assets managed for others. Operating subsidiaries include Houlihan Lokey, RED CAPITAL GROUP and Mariner Investment Group. Headquartered in Dallas, Texas, ORIX USA and its subsidiaries have more than 1,400 employees and offices in major cities including New York, Los Angeles, London and Tokyo.
ORIX USA is a wholly owned subsidiary of ORIX Corporation, a Tokyo-based, publicly owned international financial services company with operations in 35 countries worldwide. ORIX Corporation is listed on the Tokyo (8591) and New York Stock Exchanges (IX). For more information on ORIX USA, visit http://www.orix.com.
DUS® is a registered trademark of Fannie Mae