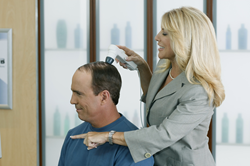 The consultation experience is enlightening and very informative.
Boca Raton, Florida (PRWEB) November 20, 2014
Deciding to take the first step and scheduling a hair loss consultation may leave one with questions about what to expect. However, a consultation is nothing to worry about. It's an exciting, hopeful experience that will answer many questions related to one's hair loss and thinning. It's the first step towards a complete self-transformation—younger looking, more confident, complete with a fuller, thicker head of hair.
Many people ask why they can't just do a consultation over the phone. The answer is simple—a hair loss specialist needs to see the hair and scalp. Since hair loss is completely unique to each head, it's crucial that hair loss consultants meet their clients in person. Coming into the hair loss center and having a hair and scalp analysis will help the consultant find the hair loss treatments that are most appropriate to achieve natural results.
After arriving to the consultation at a local Hair Club Center, a friendly and knowledgeable hair loss consultant will privately meet with the client. "Bring pictures", suggests Melissa Oakes, Hair Club's Vice President. "If you have pictures of yourself when you had more hair, it can be very helpful in determining the best option."
From there, the client can discuss concerns, ask questions and get a closer look at the hair and scalp with help from Hair Club's new and exclusive TrichoView platform. This diagnostic tool presents a magnified view of the scalp right before the client's eyes. It also helps the consultant uncover the facts about the current condition of the hair and scalp and how it can be improved with one of Hair Club's solutions, which include non-surgical, surgical and preventative options.
Read on to learn more from Oakes about what one should expect during a hair loss consultation and why there is nothing to worry about.
How long will I be there?
"We have reserved an hour for your private consultation. Depending on your needs, questions and areas of concern this time could be a bit shorter or longer. This time is all yours so we will do whatever possible to accommodate you."
What will I be doing?
"You will be learning about your hair and scalp, having your questions answered and discovering possible treatment options to help you with your hair loss. The consultation experience is enlightening and very informative."
Will I have to buy anything?
"That's up to you, but most people want to take control of their hair loss as soon as possible. We will help guide you with any decisions and answer any questions to make it as easy as possible for you."
What will I learn? "You will learn more about why people lose their hair, and we will personalize your consultation with a TrichoView Hair & Scalp Analysis. We will be able to look at your areas of concern and work together to determine the best solution. You'll learn more about the factors contributing to your hair loss and receive a suggested treatment plan with a reasonable cost estimate."
Remember, there's no pressure or obligations and yes, there is no cost involved with the consultation. "However, since many people find a solution to help their hair loss, it's not a bad idea to come prepared," adds Oakes. "It's also good to know that pricing varies depending on the solution and that financing is available."
Schedule a free consultation and TrichoView Hair & Scalp Analysis here: http://www.hairclub.com/free-consultation