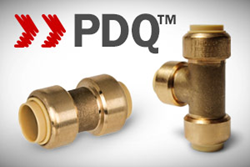 Kansas City, Missouri (PRWEB) November 20, 2014
Rough plumbing manufacturer, Sioux Chief, introduced the PDQ™ (Plumbing Done Quickly) No Lead push fitting system as part of its continuing effort to provide the most complete line of plumbing fittings on the market.
The PDQ system is available in all common fitting sizes and complemented with an industry-leading lineup of copper assemblies. All materials used in the PDQ system are No Lead, dezincification resistant and stress corrosion cracking resistant.
These naturally No Lead preformed copper (PFC) push fitting products are offered in many variations in sizes (½" through 2"). All PFC copper assemblies are made in America.
PDQ products are the perfect solution for permanent or temporary plumbing applications and can be installed without tools or a torch. PDQ products are immediately testable, removing the need to wait for water to drain from the pipe.
PDQ offers a complete line of push fitting products for copper tube sized (CTS) pipe systems (½" – 2") using: PEX, CPVC, copper and PERT. All PDQ products are packaged with PPSU stiffeners for PEX installations. PDQ push fittings are the No Lead alternative to FitQuick™ fittings, which previously used leaded materials.
More about Sioux Chief:
Since 1957, Sioux Chief has manufactured innovative plumbing products. It is a leader in providing rough plumbing solutions for residential, commercial, industrial and government applications. Sioux Chief's comprehensive product line is comprised of three core groups: Supply, Drainage and Support. Sioux Chief Products are sold to qualified wholesale distributors and retailers worldwide. The company is headquartered in Peculiar, Missouri — just outside of Kansas City. For more information, please call 1-800-821-3944.