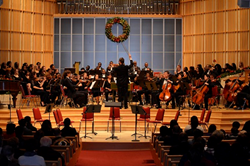 The new Paul Hill scholarship honors the legacy of a renowned faculty member and founder of the Paul Hill Chorale
Takoma Park, Md. (PRWEB) November 20, 2014
Washington Adventist University's annual Christmas Concert on December 5 at 7:30 p.m. is free and open to the public. Students from the university's Music Department will perform traditional Christmas music, along with pieces that reflect the spirit of the season.
There will be performances by the Pro Musica of Washington Adventist University, the Columbia Collegiate Chorale of Washington Adventist University, and the New England Youth Ensemble of Washington Adventist University.
This year's Christmas Concert event will launch a new scholarship for choral students – The Paul Hill Memorial Choral Scholarship Fund – and donations are welcome. The scholarship will honor the legacy of one of Washington Adventist University's renowned faculty members – Paul Hill, the choral program director from 1962 to 1970 and founder of the university's Pro-Musica choral performance group. Hill was also founder of the acclaimed 160-voice Paul Hill Chorale that performed in 1971 at the opening of the Kennedy Center for the Performing Arts, and continued to perform there under his leadership for more than two decades until his death in 1999.
The concert will be held at Sligo Seventh-day Adventist Church, 7700 Carroll Ave., Takoma Park, Md. 20912. Free parking is available directly across Flower Ave. and behind the church along Greenwood Ave.
For more information about the concert, call 301-891-4133 or email alumni(at)wau(dot)edu.
This year, Washington Adventist University is celebrating its 110th anniversary. The institution was established in 1904 as the Washington Training College to educate young men and women in the liberal arts. Over the years, the institution has been known as the Washington Foreign Mission Seminary, Washington Missionary College, and during the past half century as Columbia Union College until 2009, when the school attained university status.
# # #
Washington Adventist University is Montgomery County's only four-year private college. Part of the Seventh-day Adventist system of higher education, Washington Adventist University has been educating college students since 1904 on a 19-acre campus in suburban Takoma Park, close to the nation's capital. A total of 1,080 students of all faiths participate in the university's eight graduate and 32 undergraduate programs. The 2014 edition of U.S. News & World Report ranked Washington Adventist University among the best regional colleges in the north.
Media Contacts:
Angie Crews, 301-891-4134, acrews(at)wau(dot)edu
Donna Bigler, 240-286-1169, dbigler(at)wau(dot)edu