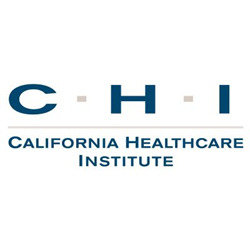 PALO ALOT, Calif. (PRWEB) November 19, 2014
WHO: California Healthcare Institute (CHI) and PwC US
WHAT: CHI and PwC invite the media to join a webcast release of its 2015 California Biomedical Industry Report. The report will provide a comprehensive overview of the economic health of California's life sciences ecosystem, including current employment trends, industry wages, VC funding levels, NIH grants, the product development pipeline and more.
California's life sciences industry leads the nation in innovation and has seen significant increases in biomedical employment and wages. Join us as we highlight the important roles that biomedical R&D and manufacturing contribute to California's economy and ultimately the nationwide life sciences ecosystem.
A panel of industry experts will lead a discussion on the state of the life sciences industry in California and across the nation; they will also facilitate questions.
Panelists:
o Donald E. Bobo, Jr., Corporate Vice President, Heart Valve Therapy, Edwards Lifesciences
o Peter Claude, Partner, PwC
o Todd Gillenwater, President and CEO, California Healthcare Institute
o Rick Winningham, Chairman & CEO, Theravance Biopharma
WHEN: Thursday, Nov. 20, 2014 from 8:30-9:30 a.m. PST
WHERE: Attend this event virtually by registering online, Questions? Please contact Will Zasadny, CHI's manager of communications zasadny(at)chi(dot)org or 619-961-8848).