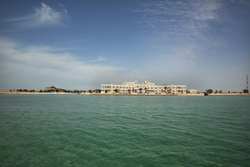 "As Bahrain's only private island resort, BEST WESTERN Hawar Resort Hotel gives us an amazing opportunity to provide guests with a genuinely unique experience," said Ron Pohl, SVP Brand Management.
Phoenix (PRWEB) November 20, 2014
Best Western International has unveiled a stunning new island resort in the Arabian Gulf.
BEST WESTERN Hawar Resort Hotel is idyllically situated on a secluded island, 45 minutes by boat from Bahrain's Al Dur Jetty.
Combining a stunning setting with an array of facilities, this unique resort allows guests to relax in perfect serenity, or partake in multiple water-based activities including jet-skiing, paddle-boating and sea fishing.
"For a hotelier, it is always exciting to discover a new property that offers something truly special," said Ron Pohl, Best Western International's Senior Vice President of Brand Management & Member Services.
"As Bahrain's only private island resort, BEST WESTERN Hawar Resort Hotel gives Best Western an amazing opportunity to provide guests with a genuinely unique experience. With a vast selection of exciting activities, excellent food and beverage options and Best Western's legendary service standards, I am confident this resort will become a favorite among domestic and regional travelers," Mr. Pohl added.
All 44 rooms and suites at BEST WESTERN Hawar Resort Hotel will offer unobstructed views across the azure waters of the Arabian Gulf. Guests will also be provided with 40-inch LCD televisions, minibars and working desks with universal plug adaptors. And like all Best Western hotels worldwide, Wi-Fi is offered free-of-charge throughout the property.
Fun days can be spent enjoying the large selection of water sports, or relaxing in one of two outdoor swimming pools, including water slides. The resort also features two meeting rooms and a business center, making BEST WESTERN Hawar Resort Hotel ideal for corporate retreats.
Guests can also enjoy exceptional cuisine all day long at the Seaview Restaurant, or cooling drinks at the Moodz Bar. The Afendi Oriental Restaurant is due to open soon, serving up Asian-inspired dishes.
BEST WESTERN Hawar Resort Hotel becomes Best Western's third hotel in Bahrain, following the BEST WESTERN PLUS The Olive Hotel and BEST WESTERN Al-Olaya Suites, both of which are located in the capital, Manama.
Currently, Best Western has a portfolio of more than 200 hotels across Asia. And the company expects to increase its regional collection to 300 properties in the next few years. Best Western first launched in Asia & the Middle East in 2001 and now covers 24 countries across Asia and the Middle East.
For more information on global development opportunities with Best Western International, please visit bestwesterndevelopers.com.
To learn more about a specific hotel or discover other Best Western hotels across the world, visit http://www.bestwestern.com.
# # #
About Best Western International, Inc.
Best Western International, Inc., headquartered in Phoenix, Ariz., is a privately held hotel brand made up of more than 4,000* BEST WESTERN®, BEST WESTERN PLUS® and BEST WESTERN PREMIER® hotels in more than 100* countries and territories worldwide. Now celebrating 68 years of hospitality, Best Western welcomes hundreds of thousands of guests nightly. Best Western provides its hoteliers with global operational, sales, marketing and promotional support, and online and mobile booking capabilities. More than 20 million travelers are members of the brand's award-winning loyalty program Best Western Rewards®, one of the few programs in which members earn points that never expire and can be redeemed at any Best Western hotel worldwide. The brand's partnerships with AAA/CAA, Minor League Baseball, and Harley-Davidson® provide travelers with exciting ways to interact with the brand. In 2013, Best Western earned our highest level of brand recognition, including our fifth AAA/CAA Hotel Partner of the Year award, second Compuware Best of the Web Gold award, fourth No. 1 ranking in Brand Keys Consumer Loyalty Engagement Index for midscale hotels and seventh TTG Asia Best Mid-range Hotel Brand. Forty-one percent of Best Western hotels worldwide won TripAdvisor Certificates of Excellence for customer satisfaction.
For more information or to make a reservation, please visit bestwestern.com.
*Numbers are approximate and may fluctuate.