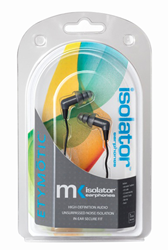 Etymotic's noise isolating earphones and high-definition earplugs are expected to be some of the most sought after products at the 2014 PASIC show.
Elk Grove Village, IL (PRWEB) November 19, 2014
A team of experts from Etymotic Research, an innovator in hearing wellness solutions, will take its latest products to the 2014 Percussive Arts Society International Convention (PASIC) this week at the Indiana Convention Center in Indianapolis to help attendees intercept the sweet cacophony of the exhibit floor and equip percussionists with the best hearing protection available anywhere. Etymotic's noise isolating earphones and high-definition earplugs are expected to be some of the most sought after products at the show. They can be found at Booths 227-229.
The company's new mk5 earphones are Etymotic's newest addition to the Isolator series of earphones, delivering exceptional sound quality at an affordable price. As with all of Etymotic's earphone and headset products, the mk5s reduce the need to turn up the volume to overcome outside noise, which protects hearing. These low-profile, in-ear earphones fit comfortably with hats and helmets and are ideal for travel and sports activities.
Etymotic's ETY•Plugs®, flat attenuation, ready-fit earplugs, and the MusicPRO® electronic earplugs will be of interest to attending music educators and students. ETY•Plugs are configured to replicate the natural response of the ear canal so that when sound enters the earplug, it is reproduced unchanged, exactly the same as the ear would hear it, only quieter. They reduce sound levels evenly so that hearing is clear and natural, not muffled as with foam earplugs, allowing musicians to hear themselves and others in any musical environment.
MusicPRO electronic earplugs provide two modes of protection in the same device by combining the performance of two high-fidelity passive earplugs – Etymotic's ER-9 and ER-15 Musicians Earplugs. The result is intelligent, high-fidelity, adaptive electronic earplugs that allow natural hearing when sound levels are safe and provide automatic protection from both loud, sustained music and percussive sounds. The soft sounds of music and speech can be enhanced if desired. MusicPRO earplugs are ideal for directors and musicians, front-of-house personnel, entertainment industry support staff, security personnel and audiences.
"Music-induced hearing loss is preventable," said Dr. Gail Gudmundsen, Managing Director, Audiology Division, at Etymotic. "Etymotic has provided the world's only truly flat hearing protection to musicians for over 25 years. With MusicPRO earplugs, we're pleased to offer the first electronic earplugs for music industry professionals that allow them to hear music naturally and be protected with no loss of clarity when sound exceeds safe levels. No other devices can do that."
About Etymotic
Etymotic is a research, development and manufacturing company that designs high-fidelity personal audio products to assess, enhance and protect hearing. For over 30 years, innovation and education have been central to Etymotic's mission. Etymotic is one of the most respected leaders in high-fidelity audio and hearing conservation. Etymotic is the proud recipient of the Safe in Sound Award for innovation in hearing loss prevention from NIOSH and the National Hearing Conservation Association. For more information about Etymotic, its hearing wellness mission and its products, please visit http://www.etymotic.com.