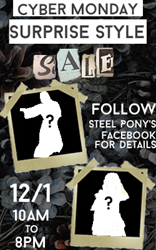 "Shopping online doesn't have to be dull. Social events do not have to be by the book. Steel Pony's clothing is all about feeling free, beautiful & unique. Everything we do as a company reflects that, now so do our events," Joanne Litz, Steel Pony owner.
Philadelphia, PA (PRWEB) November 25, 2014
Small business fashion retailer, Steel Pony, today announced a new Surprise Style Social Sale holiday experience for social users and customers, launching on December 1, 2014, for Cyber Monday.
Beginning at 10 a.m. Eastern time, Steel Pony will disclose one specific item from its Fall 2014's collection every hour on its Facebook page, available only until the next hourly item is released. Pulling from seasonal fan favorites, Steel Pony will offer a total of ten styles over ten hours that day until 8 p.m. Eastern time.
"Most consumers are tired of the same old type of sale being pushed at them every waking moment by any brand with a URL or online identity – especially larger brands," shares Joanne Litz, Steel Pony Owner and Fashion Designer.
"While looking at other retailers' emails, I found that the majority of them were repetitive and redundant in nature – yet we realized that we were also doing the same thing to our own Steel Pony customers," continues Litz. "To set ourselves apart from larger, better-known fashion corporations, we therefore had to think differently and offer something different."
Stemming from that thought process, Steel Pony's creative team conceived the Surprise Style Social Sale to include an immersive and integrative social experience for its users, from showing off styled images of each hourly featured item on its Instagram, to sharing editorial blog content offering customers style advice and tips on how to achieve specific looks.
The fashion retail company also plans on remaining active on Twitter all throughout the day, while also releasing secret pins on Pinterest for holiday shoppers to get started on their shopping lists. Users may also opt to sign up for email notifications to have early access to styles that have already been sold out in certain sizes or color options.
"Small businesses like ours need to remain creative and innovative, especially when competition for customers' attention is high during the holiday season," comments Litz. "While Small Business Saturday is happening this upcoming Saturday, it is important for consumers to support small businesses on more than just one day out of the year," she concluded.
All Steel Pony orders of $150 or more from the Surprise Style Social Sale will receive free shipping, and all shipments will be completed on time for the holidays.
Those interested in participating in Steel Pony's online event should bookmark the fashion retailer's Facebook page in preparation for the upcoming Cyber Monday.
ABOUT STEEL PONY:
All Steel Pony garments are hand-dyed, made in the USA and reflect a sustainable agenda. Join the growing movement of conscious consumption by supporting companies like Steel Pony at http://www.steelpony.com.