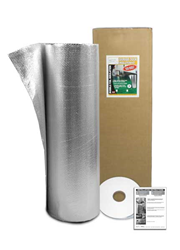 Urbana, IA (PRWEB) November 24, 2014
EcoFoil, an Iowa-based manufacturer of insulation supplies, has recently expanded its product selection to include new garage door insulation kits.
"The popularity of our new radiant barrier attic stair kits earlier this year is resulting in the creation of more new kits designed for specific uses," said Eric Youngblood, an EcoFoil product specialist. "Our all-inclusive kits are a great way for customers to get the insulation supplies they need in one convenient set, rather than having to spend their money on large quantities of items purchased separately."
Because garages are often used for more than safeguarding vehicles from the elements, proper garage door insulation is essential for businesses and families. Many people use them as workshops or storage annexes, and families often keep washing machines, dryers, freezers and other appliances in the garage. A properly-insulated garage will not only provide a more comfortable temperature inside, but it can also reduce the cost of heating and cooling the space.
EcoFoil® garage door kits include the company's "foil-double bubble-foil" which consists of two layers of heavy duty polyethylene bubbles between two sheets of 99% pure aluminum. Having foil on both sides creates a 97% reflective surface on the inside and outside of your garage, making it efficient during extreme cold and extreme heat.
"We are focusing on helping customers save money by insulating smaller areas they may not think about, like garage doors," Youngblood said. "When you add insulation to these areas, the savings can add up."
All EcoFoil products can be purchased online at EcoFoil.com and by calling 888-349-3645. More information on DIY projects such as insulating a garage door, can be found on the EcoFoil blog at Blog.EcoFoil.com.
About EcoFoil
EcoFoil® is a leading supplier of radiant barrier and foil bubble insulation. Products are manufactured in the USA and Canada exclusively - we do not sell radiant barrier product imported from Asia. EcoFoil is a division of Clickstop, Inc., located in Urbana, Iowa. Clickstop was founded in 2005 as a manufacturer's representative and distributor of building materials to customers in the Midwest. The company expanded to develop an e-commerce business and now sells EcoFoil direct to customers in all 50 states and internationally through our website, EcoFoil.com. Clickstop has earned an A+ Rating from the Iowa division of the Better Business Bureau. For more information, visit EcoFoil.com.