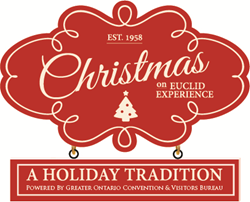 We are making downtown Ontario a festive place to meet multiple times in the season.
ONTARIO, Calif. (PRWEB) November 20, 2014
A bigger and better Christmas on Euclid Experience will be coming to Ontario, California, this holiday, complete with two days of activities and a twinkling exhibition of festive and iconic decorations on display throughout the holiday season.
A spectacular schedule has been planned to create a magical two-day festival Dec. 5 and 6, featuring a tree-lighting ceremony, carolers and movies in the park on Friday, followed by a classic car show, holiday market, snow play and ice skating, a Christmas tree farm, live performances and a visit from St. Nick on Saturday.
Elaborate twinkling lights and holiday displays – including the community's iconic Nativity scenes, which have now been fully restored – will be on exhibit throughout the holiday season through Jan. 2. Visit http://www.ChristmasOnEuclid.com for details or a complete schedule of events.
"We are making downtown Ontario a festive place to meet multiple times in the season," said Michael Krouse, President and CEO of the Greater Ontario Convention & Visitors Bureau, which has taken the lead on coordinating the larger scale event. Ontario has been celebrating Christmas on Euclid since 1958. This year's event will be the largest ever.
Partial Schedule of Events:
Friday, Dec. 5: Enjoy carolers, cookie decorating, hot cocoa and cider starting at 5 p.m., with an official tree-lighting ceremony at 6 p.m., followed by Movies in Park featuring the cartoon, "How the Grinch Stole Christmas," and "The Polar Express."
Saturday, Dec. 6: Euclid Avenue will be transformed into a mini Rockefeller Square, complete with a skating rink and snow play area. A classic car show, holiday arts and craft fair, live music on two stages, food, and block-upon-block of other activities will take place from 9 a.m. to 3 p.m.

Snow Hill Bobsled
Ice Skating
Build-Your-Own-Bear Workshop
Snow Globe Photos
Horse-drawn carriage rides
Giant Christmas Tree Climb
Game Booths
Santa's Train Ride
Live Entertainment
Sparks of Love Toy Drive*
*Donate a toy and get an hour of ice-skating free.
Visitors throughout the month will be able to stop by Logan's Candies for their seasonal handmade candy cane making demonstrations, and walk or drive past an elaborate display of twinkling lights, holiday decorations and Ontario's historic Nativity scenes, which this year have been fully restored, thanks to donations from the community.
The baby Jesus, wise men and other statues making up the 12 life-sized scenes have undergone a complete restoration this year, having been reconstructed and painted by Los Angeles artist Kim Healy Pretti as close to their original state as possible. Thousands of dollars were raised through community donations to repair the weathered and damaged displays, which were originally created in the 1950s by artist Rudolph Vargas, who painted some of the original jolly villains in Disneyland's Pirates of the Caribbean ride, along with a legacy of religious statuary in churches all around Los Angeles – the largest displays of which were at Santa Teresita Hospital in Duarte: murals depicting the nativity and St. Joseph in his carpenter's shop.
Pretti has been researching Vargas, who died in the 1980s, and contacting those who knew him as a part of her restoration work.
"It's amazing what he's done, and how much of himself went into his work," Pretti said. "He was a very driven, devoted artist and Catholic who put his heart and soul into his work… Can you tell I'm into this project?"
About the Greater Ontario Convention & Visitors Bureau
The Greater Ontario Convention & Visitors Bureau provides groups and meeting professionals with an unbiased, comprehensive resource when booking a tour, convention, meeting or event within the cities of Ontario and Rancho Cucamonga, Calif. Ideal for both leisure and business travel, the region boasts scenic mountains, deserts, vineyards and metropolitan areas that are both historic and cosmopolitan in character. For meeting needs of all sizes – from a conference room to a citywide convention utilizing the Ontario Convention Center – or for a special exposition or sporting event, the Greater Ontario Convention & Visitors Bureau will provide the necessary destination support tools to execute a successful experience. Visit http://www.discoverontariocalifornia.org.