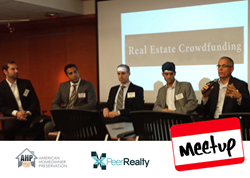 Chicago, IL (PRWEB) November 19, 2014
Chicago-based real estate crowdfunding platforms American Homeowner Preservation ("AHP") and PeerRealty recently teamed together on Meetup.com to create the group Real Estate Crowdfunding Chicago. The group offers real estate entrepreneurs and investors a professional perspective of this nascent industry from AHP's founder and CEO Jorge Newbery and PeerRealty's founder and CEO Jordan Fishfeld. The group's first in-person gathering will take place at the Assemble Shared Office on December 3 and will begin at 7:30 pm CST.
AHP has been operating since 2008 with a mission of keeping families in their homes while providing above-market returns for investors. As a result of the JOBS Act and the newfound ability to advertise private investment offerings, AHP incorporated crowdfunding into its business model. Today, AHP purchases distressed mortgage pools at discounts, empowering accredited investors to purchase equity in these pools.
"Crowdfunding is a tremendous vehicle for investors to participate in private offerings, which often can provide greater returns than more traditional investments," Newbery said. "Whether you are looking to invest in single family rehab loans, commercial buildings, ground-up development or distressed mortgage investing, crowdfunding can open doors. Through this Meetup group, we aim to bring together investors and real estate professionals to help share some of our experiences."
Fishfeld's company, PeerRealty, located in Chicago's Merchandise Mart, focuses its crowdfunding operation around mid-western residential housing. Joining Newbery and Fishfeld in speaking at the December 3 event will be Milan Rubenstein of Windy City LLC, Anthony Zeoli of Ginsburg Jacobs LLC and Phil Domenico of Assemble.
For more information on the event or to join this Meetup group, please visit: http://www.meetup.com/Real-Estate-Crowdfunding-Chicago/
American Homeowner Preservation is a socially responsible investment fund manager which empowers accredited investors to purchase equity in pools of distressed mortgages and earn returns of 9-12%. For further information or inquiries please visit https://ahpinvest.com or call 800-555-1055.