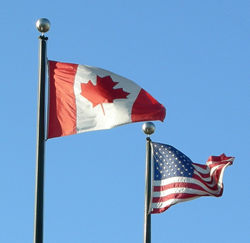 Canada requires that all persons who are convicted apply for a Temporary Resident permit...
(PRWEB) November 20, 2014
A Temporary Resident Permit (TRP) is a document issued by Citizenship and Immigration Canada (CIC). It allows an individual who would otherwise be inadmissible to legally cross the border into Canada. A TRP is granted for a fixed period of time ranging from one day to three years. It can be cancelled or revoked at any time. For example, if a person's behavior while in Canada on a TRP is called into question, they may be subject to a removal order at the discretion of the border authorities.
A criminal conviction does not automatically bar entry into Canada, but it can make it difficult. Canada requires that all persons who are convicted apply for a Temporary Resident permit if fewer than five (5) years have passed since the termination of the imposed sentence. Here what you need to know about applying for a TRP:
1. Know the details of the conviction. It's important to be clear on what the charge or conviction was for. Obtain the date of the conviction and all sentencing stipulations.
2. Be aware that even if a person was not convicted, there is still a strong possibility that the arrest or charge will still appear when a search is conducted.
3. Do not assume a "minor" conviction will not be an issue when trying to cross the border. Canada weighs a conviction in the United States against their own legal system statutes. A misdemeanor in the U.S. may be considered a more serious offence in Canada, for example, a DUI/DWI in the United States can bar a person from entering Canada.
4. Be prepared to pay a fee. In order to file for a Temporary Resident Permit, Canada has an application fee of $200 CND. This application fee is non-refundable regardless of whether a TRP is granted or not.
5. Fill out your application completely including personal and family details, as well as employment, education and conviction(s) details.
6. Show that your need to enter or remain in the country offsets any health or safety risks to Canada.
7. Be absolutely honest. If a lie is discovered on an application when conflicting information arises, it can result in never being allowed entry.
8. Submit a copy of the travel itinerary and/or plane ticket and any other travel documentation as part of the application.
9. Plan your trip to Canada in advance since processing times can range from 30-45 days depending on where the application is submitted.
10. Online applications are not accepted. Submit your application to a designated Citizen and Immigration Canada Office or Visa Application Centre. Officers and staff will not advise or assist in the preparation of applications, as they are responsible for processing successfully completed applications as expeditiously as possible.
Fortunately, help is available for preparing a TRP application by contacting Pardon Services Canada. They can provide assistance with navigating the paperwork and the entire application process. Call toll free 1-866-972-7366 to speak with a Client Advisor.
About Pardon Services Canada
An industry leader in helping individuals overcome the obstacles of a criminal record. Since 1989, Pardon Services Canada has successfully assisted over 100,000 Canadians exercise their lawful rights under the Criminal Records Act of Canada, and the Immigration and Nationality Act of the United States. Services include US Entry Waivers, Record Suspensions (formerly called pardons), and fingerprinting. Now also assisting Americans enter Canada with Temporary Resident Permits and Criminal Rehabilitation Status. To get started, call toll free 1-866-972-7366 or visit the website Pardon Services Canada