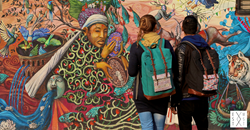 "Excellent quality! So in love with it!" - Etsy Buyer
San Francisco, California (PRWEB) November 20, 2014
Eighty three percent of Americans would prefer to buy products from brands that support a cause. But more times than not, sound ethics and sustainable practices come at the expense of style. The brother-sister team who founded EST WST Collective would like to change this.
EST WST is the new urban accessories brand offering a range of bags manufactured from exclusive sustainable materials and traditional textiles from villages in Nepal and India. Each purchase directly supports rural weavers with minimal impact on the environment. But best of all, these bags are attractive to a wide range of consumers! All items are made from traditional hand woven textiles from artisans in villages in Nepal and India, or from specialized textiles woven from sustainable materials including hemp, bamboo, Himalayan nettle, organic cotton and recycled materials.
Brother-sister team, Jhana and Arya Cayton spent the past year in Nepal and India working with rural populations to establish weaver "Collectives". The relationships preserve the traditional craft and provide a sustainable income where economic opportunity is slim. Additionally, EST WST commits a dollar from each purchase to their Rural Development Fund to support sustainable development, clean energy and educational scholarships in rural South Asia.
"It has always been my dream to start a clothing brand, but the market is so saturated and there was no way I was going to start making products just so I could put my name on them. They needed to have substance and purpose" explains co-founder, Jhana Cayton. The Cayton's decided to start EST WST in Nepal due to their close ties with the small landlocked country. The team's parents met in Nepal and spent 12 years in Kathmandu, which included Jhana and Arya's early years. In an effort to reconnect with the culture and support marginalized populations, the team started EST WST.
EST WST features materials that aren't readily available in the marketplace. Specialized hand woven textiles direct from rural weaver collectives offer consumers an opportunity to connect directly with the culture and people behind each product. Other textiles are specially woven for EST WST from the most sustainable materials. And each product is stitched in a fair labor production facility in Kathmandu, Nepal.
After a year of developing the supply chain, testing products and refining designs http://www.ESTWSTcollective.com is launching with a complete holiday line! The collection provides an urban direction that appeals to wide range of consumers.
There is a coupon and giveaway launching on Friday at 12-noon PST. Head over to the EST WST Collective Facebook page and follow the link for 10% off your first purchase and a chance to win one of these great bags!
Contact Jhana@estwstcollective.com for interviews, questions or photos. Check ESTWSTcollective.com to shop the full line and learn more about this unique social enterprise.