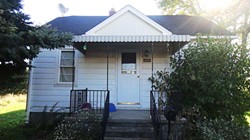 Chicago, IL (PRWEB) November 20, 2014
One in every 680 homes in Flint, MI is in some stage of the foreclosure process, according to Realtytrac.com. Flint is one of several cities in Michigan dividing $175 million from the Hardest Hit Funds to raze abandoned properties that have become unsalvageable. American Homeowner Preservation ("AHP") aims to stabilize communities by finding new owners for abandoned properties that are still habitable. This week, AHP was able to find a new family for a vacant property in Flint that had been ravaged by criminal trespassers.
Sarah, 30, and her husband, 34, just recently entered the market to purchase their first home. The couple has a 2-year-old son and an 8-month-old son, and wanted to provide stability for their children by owning a home instead of renting.
"We want something of our own that our kids can be proud of and call home," Sarah said. "And not have to worry about moving or anything else."
The couple visited many homes during their search, but they struggled to find one that felt right or fit them. When they discovered one of AHP's properties listed on Craiglist and visited the property, something clicked. "It was the right number of rooms, it had a big lot, and a basement. I wanted a garage and my husband wanted a basement, so it worked out for both of us."
Sarah moved back from Arkansas to Flint, the city she grew up in, two years ago to be near her family. The property she and her husband purchased from AHP is near many of her family members, who help her take care of her two young children. Sarah and her husband are happy with the location and affordability of their new home, but will face a challenging renovation process due to damage inflicted to the property by criminal trespassers.
"There is no bathroom in this house. There's no wires, there's nothing," said Sarah. "They stole the furnace, they stole the hot water heater, they stole everything. They even took the water meter from the basement."
Though they have their work cut out for them, Sarah and her husband are excited about the light at the end of the tunnel in owning their own home. "I want to be able to paint, if I want to paint. I want to be able to change out my appliances if I want different appliances," Sarah said. "I want to be able to do what I want to do in my own home."
American Homeowner Preservation is a socially responsible investment fund manager which empowers accredited investors to purchase equity in pools of distressed mortgages and earn returns of 9-12%. For further information or inquiries please visit https://ahpinvest.com or call 800-555-1055.