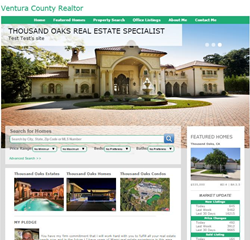 Thousand Oaks, CA (PRWEB) November 20, 2014
RealtyTech Inc., a national Real Estate software and marketing corporation, will be launching new professional Real Estate Agent templates for their Agent123 Websites in early December 2014 that include the ability for agents to upload their own main home page images, banners and background images to customize their site to match or create their online brand.
Adding custom background images to the new templates is an easy way for real estate professionals to also personalize their websites and make their sites more area specific. This feature will help agents who are gearing their websites toward specialized areas such as waterfront homes, horse properties, city condos, etc.
The new templates are intuitive and streamlined to offer a refined and insightful user experience. The new layouts were designed by Designer, Soeun Park, to increase stickiness with online visitors utilizing proven online tools including a Custom Form Creator with unlimited forms and a new home evaluation lead capture system.
"This is a major enhancement that further distinguishes the RealtyTech Client from his peers," said Richard Uzelac, President of RealtyTech Inc. " The savvy agent understands the need to brand themselves properly on their marketing 'mother ship', their website. With the ability to upload main homepage images to match their market and brand, agents will present a far more professional presence online than ever before."
In addition to the new ability to upload background images, the new templates also include updated preloaded content to help visitors to intuitively navigate the site and enhance the home search experience.
The new updated templates will be added to RealtyTech's Agent123 service in early December 2014 and available to every existing client at no additional charge.
About RealtyTech Inc.
RealtyTech Inc. is a Thousand Oaks, CA-based company that gives real estate professionals the tools necessary to stand out and succeed in today's online marketplace combined with solution minded, live California-based customer service. We have over 15 years of online real estate marketing expertise and have spent over 10 years of that experience offering Agent and Office websites, IDX Home Searches and Internet Marketing. For more information, please call (877) 832-4428 or visit http://www.RealtyTech.com