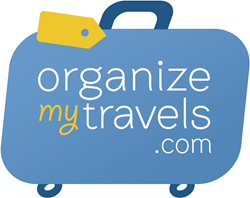 Our goal is to 'teach' users how to organize their travel plans, packing needs, budget, reservations and itineraries prior to vacation so that they can sit back, relax and enjoy the sights.
(PRWEB) December 02, 2014
Launched in mid-2014, Organizemytravels.com (OMT) combines travel advice/tips, online software tools, travel website reviews, travel aids, packing tips, an Amazon store, a travel blog and personal cloud storage for planning and executing the perfect vacation.
"Our goal is to 'teach' users how to organize their travel plans, packing needs, budget, reservations and itineraries prior to vacation so that they can sit back, relax and enjoy the sights," said founder Diana Keller.
Extensive travel tips and tools help members research, prioritize and store personalized travel information that can be securely saved and recalled from any web-enabled browser in the world. Members safely "pack away" all important documentation in a "virtual suitcase" for convenience or in case of loss/theft/emergency while away from home. Users simply login from any browser in the world and their saved documents will be available to view or print.
In addition, OMT editors scour the internet, blogs, social media channels and print media to provide an updated list and description of the best travel-related web sites worth reading and using to plan a vacation. Need to know when the best time is to buy an international plane ticket? Want to learn how to maximize bidding for hotel rooms or car rentals? Travelling with children? Organizemytravels.com keeps members up-to-date with helpful "Notes" and "Tips" sections found throughout the website.
The OMT Amazon Store sells the "best of everything travel" -- clothing, shoes, luggage, gear and accessories for women, men and children that are worth buying and packing. Store products are chosen based on style and quality by recommendations from OMT editors, travel bloggers and other travel industry experts.
While basic information on organizemytravels.com is accessible to everyone, those who pay $2 per year, receive the following exclusive tools and privileges:

Travel tips for all ages based on over 80 years of combined travel expertise through expat living, study abroad and extensive international/domestic travel.
Suggested websites for planning a vacation. OMT provides continuously updated summaries of the best travel-related websites for lodging, airfare, tours, car rental and destination information – for all budgets and lifestyles.
A personalized checklist so that users can check it off before taking off! OMT provides a detailed "To Do" list based on experience, but members can add their own tasks to complete prior to leaving home or during their vacation.
A budget tool with pre-filled line items, plus the ability to personalize budgets by adding individual expenses. According to OMT founder, Diana Keller, "We want users to learn how to maximize their hard-earned money while on vacation."
SSL-encrypted database tool to create and store critical information and photos. OMT provides a long list of important items and documentation that members should always have on hand when travelling.
A document-creation tool for copying, pasting and saving ticket information, hotel reservations, car rental confirmations, daily itineraries and destination information.
Personal cloud storage for easy access to all the documents, lists and budget worksheets created by members.
A blog to share travel adventures that have created life-long memories, lessons learned and lasting friendships.
Editor's Note: Non-member media seeking to review organizemytravels.com without paying the $2 membership fee can contact info(at)organizemytravels(dot)com to receive a temporary password for complete access to http://www.organizemytravels.com.