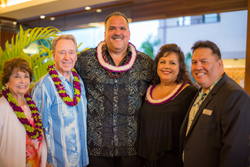 Kumu Hula Kaleinani has shared her love of Hula, Kauai and Hawaiian culture all over Japan. She continues to encourage tourism for Kauai and is instrumental in the ever growing interest of Hula throughout Japan.
Koloa, Hawaii (PRWEB) November 19, 2014
A private reception was held at Koloa Landing Resort and Spa to honor Kumu Hula Kaleinani Hayakawa on Saturday November 15, 2014. Kaleinani wanted to culminate her 50th anniversary year as Kumu Hula on Kauai with some of her longtime hula students and special friends. Kauai's recently re-elected Mayor Bernard Carvalho, was in attendance, as a longtime friend. Bill Child, CEO and Chairman of the Board for Poipu Beach Villas, developer for Koloa Landing, also welcomed Kumu Hula Kaleinani among other friends and dignitaries.
"We are so pleased to host Kumu Hula Kaleinani Hayakawa and celebrate her accomplishments, love for hula, and the Garden Island of Kauai," said Ike Cockett, General Manager for Koloa Landing. "Having our Mayor attend and relax at our Resort after a triumphant election is an added bonus."
The reception at Koloa Landing was held to honor and celebrate Kaleinani's many accomplishments and relationships that have developed over the past five decades. She has a long-standing relationship with Kauai, the island's Hula Halau and Kumu Hula, as well as many distinguished public figures. A special hula was created for Kauai and the people by Kumu Hula Kaleinani.
"The "Okyo Rock" (okyo means chant or prayer, and 'rock' means contemporary rock music), according to Kaleinani, is a Buddhist chant added with contemporary rock music which is to bring goodness to the world, especially for the people of Kauai. The hula motion was created by Kumu Hula Kaleinani and was performed earlier this year in Honolulu for Honolulu Festival where Kaleinani was asked to produce a hula show at Hawaii Convention Center. It was also performed at Kaleinani's 50th anniversary concert at Tokyo International Forum with 5,000 people in the audience," stated Arthur Umezu, Kaua'i Film Commissioner, who was also in attendance at the private event on Saturday.
In 1956, Ms. Kazuko 'Kaleinani' Hayakawa who trained as a ballet dancer in Japan, came to Hawaii to learn about a Hawaiian dance called hula. Her teacher was renowned Kumu Hula Louise and Luka Kaleiiki of Papakolea, Oahu. Kaleinani became Kumu Hula of Joban Dance Academy which officially opened in 1964 where hundreds of hula girls were taught to perform at Joban Hawaiian Center (name changed to Spa Resort Hawaiians in 1990). In 1976, Hayakawa opened Japan's first hula school in various areas in Tokyo and nearby region. During the sixties and seventies, Kaleinani continued her interest in Hawaiian culture, hula and music. In the late 70s, Hawaii Governor, George Ariyoshi honored and recognized her for her work as teacher of hula and Hawaiian culture and arts in Japan.
Since 1991, Kaleinani has dedicated her time to visit Kauai and share her knowledge of hula and dance with the island. In 1996, she started Kauai Hula Festival which brought hundreds of dancers and her students from Japan to perform with hundreds of hula dancers from Kauai. The Kauai Hula Festival continued for six years and then the festival was moved to Japan. The festival was held in many cities throughout Japan including Fukuoka, Yokohama, Tokyo and Kumamoto promoting Kauai to Japan's hula community.
Former Kauai Mayor Maryanne Kusaka, in 1991 dedicated a 'hula tree' to Kaleinani which was planted on the grounds of Kauai War Memorial Convention Hall in Lihue. In 2006, Kaleinani was portrayed in a Japanese movie, "Hula Girl" which received 12 nominations from Japan Academy Awards and won 6 awards. Hula Girl became one of the most popular movies in Japan in 2007-2008. Hawaii's ukulele musician extraordinaire, Jake Shimabukuro played on the soundtrack. After an earthquake and tsunami disaster struck Iwaki city and Tohoku regions in March 2011, Kaleinani created a 'hula caravan' with dozens of dancers from Spa Resort Hawaiians who traveled and performed all over Japan to give hope and inspired people who were devastated by the tragedy.
Kaleinani came to Kauai in 2008, especially to congratulate Kauai's new Mayor Bernard Carvalho who entertained her with playing and singing Hawaiian songs. Mayor Carvalho reciprocated her aloha by attending the reopening ceremony of Spa Resort Hawaiians and Iwaki City Revitalization event hosted by Iwaki City Hall in October 2011. A rewarding friendship was born between the two that continues to enhance both Kauai and Japan.
This year, 2014, she was honored with a cultural and humanitarian award from Mayor Fumiko Hayashi of Yokohama. On July 9, 2014, Kaleinani was honored at the Grand Hula Celebration for Joban Dance Academy's 50th anniversary at Tokyo International Forum where she performed her special Kauai Hula. She invited Hawaii's top musicians and Kumu Hula to perform including: Chinky Mahoe, Blaine Kia, Moon Kauakahi of Makaha Sons, Pomaikai Keawe Lyman (Genoa's granddaughter) and many others. She also invited Kauai dancers: Troy Lazaro, Kekoa Tango, and Pali Caberto as well as Miss Hawaii 2014, Stephanie Steuri who hails from Kalaheo, Kauai.
For the last 50 years Kumu Hula Kaleinani has shared her love of Hula, Kauai and Hawaiian culture all over Japan. She continues to encourage tourism for Kauai and is instrumental in the ever growing interest of Hula throughout Japan. The exclusive reception at Koloa Landing was coordinated by Michiru Umezu, Pres. Sakura System, Japanese Language and Business Service, serving Kauai since 1990.
About Koloa Landing
Koloa Landing Resort and Spa features 98 spacious two, three, and four bedroom residential villas managed by renowned hotel operator Azul Hawaii Resorts. Currently, the resort boasts two tropical lagoon pools with Jacuzzi, BBQs, 24-hour fitness center, the Spa at Koloa Landing, personal concierge, rental car service, Gourmet Marketplace, and Holo Holo Lobby Bar & Lounge. The 25 acre property is truly unmatched when it comes to the residences, gracious service, and aloha spirit that envelopes the resort. The Phase Three expansion is underway now, which will feature one of the largest tropical pools on island. Koloa Landing Resort and Spa is a unique piece of real estate offering whole ownership with resort amenities and rental management for the perfect island vacation.
For more information:
Visit our Property at 2641 Poipu Road, Koloa, Hawaii 96756
For Ownership Opportunities, visit http://www.KoloaLanding.com or call 808-240-6637
For Resort Reservations, visit http://www.KoloaLandingResort.com or call 808-240-6600