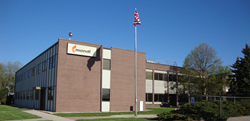 Auctions present real estate investors, owner-operators, really anyone interested in a deal with the chance to buy at a deeply discounted price
Menasha, Wisconsin (PRWEB) November 20, 2014
This former paper manufacturing building in Winnebago County is currently offered in an online auction on the Freedom Realty Exchange. The fully functional industrial facility is set in the "Paper Valley" halfway between Green Bay and Milwaukee. It was designed for efficient product flow with docks and grade-level doors for incoming product and the same feature for the finished product. After sitting on the market for nearly two years, interested buyers now have the opportunity to purchase the property far below previously listed prices.
"Auctions present real estate investors, owner-operators, really anyone interested in a deal with the chance to buy at a deeply discounted price," states Casey Flynn, operations director for the auction company. "The convenience of the online bidding is extremely helpful for those interested buyers not located in the immediate area, or even in the country. We've attracted buyers from across the globe in our auctions, and the combination of this type of property, the aggressive low starting bid and a highly motivated seller has us believing that the property could sell on the bid deadline."
PROPERTY DETAILS

±197,500 square foot building on approx. 6 acres
Zoned for Light Industrial/Manufacturing
9' to 24' ceilings
Seven (7) grade level dock doors
100% sprinklered
Basement with ramp
Lower level for storage, supplies or maintenance support
AUCTION DETAILS

Minimum bid $499,000
Bid deadline December 11, 2014
Broker participation offered
Important property documents, additional photos and auction information, such as terms and conditions of sale, can be downloaded from the auction property page at FRE.com/185. Property tours can be arranged with the auction manager whose details are on the website.
LFC Group of Companies
For more than three decades, the LFC Group of Companies has been a leader in the real estate auction industry, beginning with the traditional, outcry auction events and pioneering the transition to 100% online auctions. Working with clients across the globe such as real estate developers, financial institutions, community and investment banks, private investors, private equity funds and government agencies, the LFC Group of Companies has sold billions of dollars' worth of real estate by providing a complete suite of real estate disposition strategies and auction marketing programs. The Freedom Realty Exchange is owned and managed by LFC Internet Marketing, Inc., a member of the LFC Group of Companies.