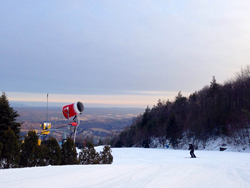 Palmerton, Pennsylvania (PRWEB) November 20, 2014
As Mother Nature blankets the country with record breaking low temperatures, Blue Mountain announces their earliest Opening Weekend in their history of 38 years of business. Blue Mountain capitalized on the ideal snowmaking environment and began making snow last Thursday evening with one of the east coast's most powerful and advanced snowmaking systems.
Blue Mountain's Opening Weekend for the 2014-2015 Winter Season will be Saturday, November 22 - Sunday, November 23 with 10 trails and 4 lifts operating from 8:00am till 10:00pm.
With the help of the abnormally early cold temperatures and Blue Mountain being the region's leader in snowmaking, ten trails are expected to be open with a 24-inch base. This is a record for Blue Mountain in being the most amount of trails ready for Opening Weekend. Blue Mountain continued to invest in their snowmaking capacity this summer by adding six new snowmaking pumps, increasing their output to an impressive 14,000 gallons per minute. Over half of Blue Mountain's acreage is now fully automated with the industry's latest equipment and software, along with the entire water pumping system. Guests can check the Trail Map & Condition Report at http://www.skibluemt.com for updates and the official trail count on Saturday morning.
Blue Mountain will be closed Monday, November 24 through Thursday, November 27 and plan to reopen for the remainder of the season on Friday, November 28 from 8:30am to 10:00pm (weather permitting).
In honor of the earliest Opening Weekend in Blue Mountain history, two types of lift tickets will be offered for this Saturday and Sunday only. Guests can purchase the "Early Opening" 6-hour EZ Slope Pass for $40.00 and a $35.00 Night Ticket, available 4:00pm to 10:00pm. Plus, those with 2014-2015 Weekday Season Passes will be granted lift access and invited to ski & ride all Opening Weekend.