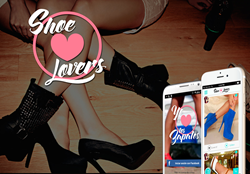 "The growth we are experiencing is really unprecedented and speaks to a universal passion for shoes and style that we think will transcend geographies and languages"
(PRWEB) November 29, 2014
Tandem Capital has a reputation for picking startups that it can help grow quickly in its six-month incubator program, but none has ever seen the kind of skyrocketing growth of the company Shoe Lovers and its Facebook community Yo Amo Los Zapatos.
Shoe Lovers is the brainchild of a team from Mexico City led by Felipe Servin. Using a proprietary formula developed inside the Tandem incubator space, Yo Amo Los Zapatos in one year has become one of the top 5 fastest growing Brand pages on Facebook. Yo Amo Los Zapatos adds almost four hundred thousand new fans every week, according to Facebook analytics site SocialBakers.
Already, Yo Amo Los Zapatos is a top 30 Facebook Brand page and #1 Lifestyle page. Its 26 million fans tower over long-standing brands like Zappos, Levi's, Nike, H&M, Louis Vuitton, and Burberry. And Yo Amo Los Zapatos has built one of the most engaged audiences on Facebook with between 2.5M and 3M daily active users, primarily women between 18 to 35 years old.
Yo Amo Los Zapatos posts curated content every day that is carefully selected by one of Shoe Lovers' co-founders, a fashion curator working from Argentina who is a world-class trend hunter. It's not uncommon for these posts to get hundreds of thousands of likes and thousands of comments. During the last month, for example, for the top 10 posts, likes averaged 900k per post and Comments averaged nearly 25k comments per post. The curated fashion is complemented by fashion blog posts from a team of bloggers around the globe.
"The growth we are experiencing is really unprecedented and speaks to a universal passion for shoes and style that we think will transcend geographies and languages," said Felipe. "Shoe Lovers was built to maximize the network effect of the community interactions, providing an outstanding user experience which maximizes the engagement of our community."
Shoes have been a staple in Servin's life. His parents operated a shoe business in his home town of Guanajuato, Mexico. After obtaining an MBA from the University of Warwick in the UK, Servin returned to Mexico, where he launched his first online shoe business, Calzaclick. Based on his experience with Calzaclick, Servin realized that the power of the social network could create a passionately loyal and engaged user base, and with that insight he decided he would focus on building a highly engaged community which captures the fans' preferences with unprecedented accuracy to provide an outstanding user experience. That venture is what became Yo Amo Los Zapatos with its phenomenal growth.
About Shoe Lovers Inc.
Shoe Lovers is the world's largest online community for shoe fashionistas, curated with love. We have grown to 26+M Facebook fans in a little over a year by offering a unique mobile social commerce platform to help passionate women who love shoes to find offers, discover trends around the world, and share their passion with others.
About Tandem Capital
We're the accelerator for mobile startups that want more. We invest muscle capital -- funding and hands-on engagement – in just 12 companies a year, driving our 90% success rate.