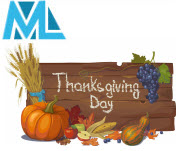 Pavtube Studio offers Thanksgiving joys with valued customers and potential users on Pavtube 2014 Thanksgiving Special Page!
(PRWEB UK) 24 November 2014
Innovative multimedia software applications provider, Pavtube Studio, announces the release of a special article that will provide customers with the biggest discount of this year, in time for the Thanksgiving holiday. Thanksgiving Day is coming this Thursday, November 27th, and Pavtube Studio would like to share Thanksgiving joys with customers and potential users. The release of this special page enables people to get information about Pavtube Studio, its celebration of this coming Thanksgiving, and its discount offerings.
The discount offering is to show gratitude to valued customers and potential users of Pavtube software, who plan to deliver one of the products as a Thanksgiving gift, or use one of the products to create special memories for this year's Thanksgiving season.
For customers who plan to deliver a Pavtube program as a Thanksgiving present, the special article will be of interest as they will learn about Thanksgiving traditions and also receive a discount of up to 50 % off for all the Blu-ray and DVD products on the site.
Customers who shoot MXF, MOV and other video footages by Panasonic, Canon, Sony, and VLC camcorders, and want to edit these recordings in Windows and Mac editing software like Pinnacle, Adobe Premiere, FCP, iMovie, Avid Studio, etc. would apply this product for creating special memories for this year's Thanksgiving season. They can benefit from this special article as they will find the best apps for Thanksgiving, and hot topics regarding Thanksgiving. More importantly they will receive special promotions on video products, which would assist them in creating these timeless memories.
"The release of this Thanksgiving special topic would draw people's attention on the coming Thanksgiving season", said Pavtube sales manager, Anna Qian.
"Plus, people need an extra way to share their love and gratitude to others. Pavtube software application is the best choice to make that happen," continued Qian
About Pavtube Studio
Founded in 2007, Pavtube creates expert multimedia software applications that help consumers access, transfer and share their digital content across different devices that range from PC, Mac, tablets, smartphones, to HD media players, game consoles, and home theatre systems.
On the basis of computer OS, Pavtube products are divided into two categories - Windows solutions and Mac solutions, spanning across BD/DVD saving, video trans-coding, camera/camcorder footage, and DVR recordings (e.g. TiVo) conversion.
With creativity, expert knowledge as well as cutting-edge technology, Pavtube helps consumers throughout the world enjoy more in a digitally connected audio-visual world. See http://www.multipelife.com and http://www.pavtube.com for more information.