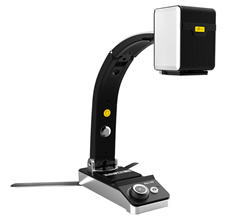 Hangzhou, China (PRWEB) November 24, 2014
Zoomax, the world's leading manufacturer of low vision products, has designed many popular video magnifiers to help visually impaired individuals live independent lives, such as the handheld video magnifier Snow and Snow 7 HD, the desktop video magnifier Aurora HD and the Panda.
Today, the company is announcing the launch of its newest product, the Zoomax Mars HD, a 3-in-1 portable electronic magnifier ideal for students and office workers with diverse needs. No matter if the user is doing homework, viewing a presentation or putting on makeup, Mars HD will bring individuals with low vision independence and keep them active.
What does the 3-in-1 portable electronic magnifier offer?

Close, Distance & Self Viewing
The unique design of Mars HD offers multi-angle viewing with excellent image quality for users. For students, they can use it to read books at 17 high contrast colors, view the blackboard line by line and even take a snapshot for later studying. For office workers, they can put on makeup with Mars HD's mirror function before work, follow along with presentations, and always focus on their job.
USB/HDMI Connection, Lightest Weight & Smallest Size
Just plug it in, then you can control Mars HD's functions with a built-in control panel or computer keyboard while connecting to a TV, laptop or desktop via USB/HDMI. And its compact and flexible legs can be set up and folded in seconds while occupying a tiny space on a desktop or in a backpack. Weighing only 0.88kg, Mars HD is, in a way, an ideal, tiny "walking robot," which can easily be carried and used at home, in school or at work for anyone with a vision impairment.
Key Features of the Zoomax Mars HD include:
Connection to PC/monitor via USB/HDMI
Supports PC system: Windows XP or later
Rotatable HD camera for close reading (left/right), distance & self viewing
Continuous magnification of about 2X ~ 80X
Favorite color modes and 16 high contrast color modes
Reading lines and windows
Real-time image freeze and save
Lightweight and portable at 0.88kg with customized bag
Intelligently saves the last user setting and power saving
Tiny footprint: 18cm X 7cm
Small size after folding: 8.6cm X 12.5cm X 22.6cm
Working height: 19.5cm
Rechargeable Li battery for over 4 hours of continuous use
Customized carrying case and backpack
About Zoomax:
Zoomax Technology Co., Limited, a global and professional low vision equipment supplier, designs, manufactures, and sells the highest quality and most cost-effective video magnifiers. Their product range covers handheld, portable, and desktop video magnifiers. Today, Zoomax has distributors in more than 40 countries.
The Mars HD is now available through authorized Zoomax global dealers. Click here to learn more about our New Year's contest and enter for a chance to win a portable video magnifier Mars HD.
For more information on its products, availability, and other company information, please visit the Zoomax website at http://www.zoomax.co.
Contact information:
Tel: +86-571 87006308
Email: zoomax(dot)marketing(at)zoomax(dot)co
Facebook: Facebook.com/pages/ZoomaxTechnology
Twitter: @ZoomaxMarketing