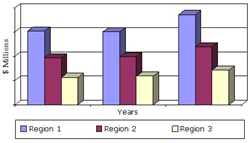 Global Market for Photomedicine to Reach $754 Million by 2019
Wellesley, Mass. (PRWEB) November 20, 2014
BCC Research (http://www.bccresearch.com) reveals in its new report, Photomedicine: Technologies and Global Markets, the global photomedicine market, including drugs and devices, is expected to reach $754 million by 2019, registering a compound annual growth rate (CAGR) of 4.1% for the five-year period 2014 to 2019. The biggest market drivers are healthcare reforms that provide coverage to an increasing number of patients and continuous innovation in drug development and medical devices.
Due to the rapid transformations occurring in research and development, new healthcare reforms, and the advent of personalized medicine, the dynamics of the market are changing. Particularly in the United States and China, reforms are drastically increasing the number of patients with access to healthcare, as well as treatment options. The arrival of personalized medicine and the growing speed at which R&D is delivering new medical devices are strong contributors to a developing market as well.
In terms of regions, North America holds the largest market share and will be the fastest-growing region, followed by Asia and Europe. North America will also generate the highest revenue, growing from $300.9 million in 2014 to $372 million in 2019, with a five-year CAGR of 4.3%.
"Current applications depend on the available chemistry and technologies that support phototherapy," says BCC Research healthcare analyst Alessandro Varotto. "Future advances in photomedicine are promising, and there are many potential problems where phototherapy can offer better solutions over conventional treatment options."
The industry is, however, facing serious threats from biologics. These are naturally occurring molecules, such as proteins and antibodies, which are effective for the treatment of conditions previously treated with photomedicine. But due to the relatively low cost and fewer side effects of photomedicine compared to biologics, the former will continue to grow.
Photomedicine includes drugs activated by light, ultraviolet phototherapy, photodynamic therapy (PDT), and low-level laser light therapy. It also includes therapeutics activated by light and light-emitting medical devices such as UV lamps and some lasers (excluding surgical lasers).
Photomedicine: Technologies and Global Markets provides a comprehensive analysis of the photomedicine market. It addresses the drivers and limiters of the market and offers an analysis of both drugs and medical devices for use in photomedicine. The report also includes historical sales of drugs and medical devices used in photomedicine in 2013 and estimates for 2014. Sales forecast are presented through 2019.
Editors and reporters who wish to speak with the analyst should contact Steven Cumming at steven.cumming(at)bccresearch(dot)com.
About BCC Research
BCC Research publishes market research reports that make organizations worldwide more profitable with intelligence that drives smart business decisions. These reports cover today's major industrial and technology sectors, including emerging markets. For more than 40 years we've helped customers identify new market opportunities with accurate and reliable data and insight, including market sizing, forecasting, industry overviews, and identification of significant trends and key competitors. We partner with analysts who are experts in specific areas of industry and technology, providing unbiased measurements and assessments of global markets. Our clients include the top companies in industries around the world as well as universities, business schools, start-ups, consulting firms and investment companies. Visit our website at http://www.bccresearch.com. Contact us: (+1) 781-489-7301 (U.S. Eastern Time), or email information(at)bccresearch(dot)com.
Data and analysis extracted from this press release must be accompanied by a statement identifying BCC Research LLC, 49-2 Walnut Park, Wellesley, MA 02481, Telephone: (+1) 781-489-7301; Email: editor(at)bccresearch(dot)com as the source and publisher. Thank you.