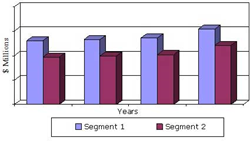 Global Dental Market to Reach $55 Billion in 2019
Wellesley, Mass. (PRWEB) November 21, 2014
BCC Research (http://www.bccresearch.com) reveals in its new report, Global Dental Markets: Furniture, Equipment, Materials and Supplies, the global market for these dental markets is expected to grow to $55 billion by 2019, with a five-year compound annual growth rate (CAGR) of 2.9%. Driven by newer technologies, dental equipment is the fastest growing segment of the industry, increasing at a CAGR of 4%.
Led by advances in technologies such as imaging equipment, dental lasers and CAD/CAM (computer-aided drafting/computer-aided manufacturing) equipment, the dental equipment market is the fastest growing segment of the industry. A CAD/CAM system, which typically consists of imaging equipment, software, and a milling unit, can provide patient services such as inlays, onlays, veneers, and crowns in a single visit. The dental equipment market is forecasted to reach a value of $7 billion in 2019, up from $5.6 billion in 2014, reflecting a five-year CAGR of 4.4%. Growth is likely to be influenced by steady demand for professional dental services, primarily supported by an increasing life expectancy, a growing and aging population, and increasing consumer awareness of dental care and healthcare needs.
Reconstructive and cosmetic materials, the largest segment in the professional dental market, is expected to reach $12 billion in 2019, reflecting a stable, if not tepid, five-year CAGR of 1.8%. The high cost of materials and exceptionally high demand for cosmetic services in all health segments will continue to significantly impact market size. This segment is anticipated to escalate as society continues to shift from a practical and necessity-based society to one increasingly concerned with personal dental esthetics.
The dental treatment materials and supplies market, the second-fastest moving segment in the industry, is predicted to reach $8.8 billion and register a CAGR of 2.9% in 2019. A growing consumer awareness of dental health in terms of caries treatment and endodontic solutions, especially among a growing and aging population, will continue to influence its steady growth.
"Consumers have expressed a growing desire to accelerate the process for dental solutions, and a significant portion of the U.S. and Western European populations are prepared to pay for high-end solutions for youthful, natural-looking smiles," said BCC Research healthcare analyst Melissa Elder. "This trend has supported the growth of in-office CAD/CAM dental solutions and one-visit dental restorations."
Global Dental Markets: Furniture, Equipment, Materials and Supplies provides a global overview of the dental markets for furniture, equipment, materials and supplies. It includes analyses of global market trends, with data from 2012 and 2013, estimates for 2014, and projections of CAGRs through 2019.
Editors and reporters who wish to speak with the analyst should contact Steven Cumming at steven(dot)cumming(at)bccresearch(dot)com.
About BCC Research
BCC Research publishes market research reports that make organizations worldwide more profitable with intelligence that drives smart business decisions. These reports cover today's major industrial and technology sectors, including emerging markets. For more than 40 years, we've helped customers identify new market opportunities with accurate and reliable data and insight, including market sizing, forecasting, industry overviews, and identification of significant trends and key competitors. We partner with analysts who are experts in specific areas of industry and technology, providing unbiased measurements and assessments of global markets. Our clients include the top companies in industries around the world as well as universities, business schools, start-ups, consulting firms and investment companies. Visit our website at http://www.bccresearch.com. Contact us: (+1) 781-489-7301 (U.S. Eastern Time), or E-mail information(at)bccresearch.(dot)om.
Data and analysis extracted from this press release must be accompanied by a statement identifying BCC Research LLC, 49-2 Walnut Park, Wellesley, MA 02481, Telephone: (+1) 781-489-7301; Email: editor(at)bccresearch(dot)com as the source and publisher. Thank you.