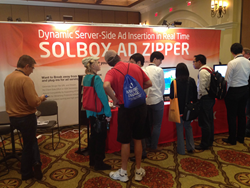 SEOUL (PRWEB) November 21, 2014
Solbox (Taeha Park, CEO, http://www.solbox.com), a company specializing in CDN (Content Delivery Network) and cloud technology, today announced its participation in Streaming Media West 2014, held from November 18 to 19 in Huntington Beach, California, for a presentation on its recently-released server-side ad insertion solution.
'Streaming Media West' is the world's largest event for online video technologies and business strategies, and as the only Korean company to attend the event, Solbox was alongside industry leaders including Verizon, Skype, Wowza Media Systems, and Limelight Networks.
Presentations and panel discussions for OTT, encoding and transcoding, content monetization, format and protocol standardization, and other topics related to online videos took place over the course of the two-day event. Notably, Solbox received much fanfare for its presentation and demonstration of Ad Zipper released just a week prior on the 11th of November.
Solbox Ad Zipper is a server-side ad insertion solution capable of integrating ads and video content regardless of device and format. It is characterized by its ability to overcome the complexities and technical limitations associated with traditional client-side ad insertion methods. Solbox received a great response from the attendees in demonstrating their solution for easily inserting ads into videos in real-time without SDKs, plug-ins, or JavaScript along with support for pre-, mid-, and post-roll formats.
Ad Zipper garnered attention from OVP (Online Video Platform) operators for being capable of ensuring flexible and reliable advertising service on any device to provide the highest quality viewing experience as well as generate advertising revenue.
Taeha Park, CEO of Solbox, commented, "Through this event, we were able to identify streaming-related trends and technologies at a glance as well as build relationships with key players in the industry. It was a great opportunity to gauge the current market requirements." He continued, "We've proven our technology in the Korean market. I believe our demonstration at this event will be an important first step for expanding into the global market."
About Solbox
Solbox, a leading CDN and cloud software provider in Korea, offers an integrated software platform for telecom companies to implement large-scale CDN and cloud services. Solbox's platform contains core components including: inventory management, storage virtualization, load balancing, monitoring and content delivery applications. Solbox provides joint services with KT and LGU+, the two of big three telecom companies in Korea. More information can be found at http://www.solbox.com.