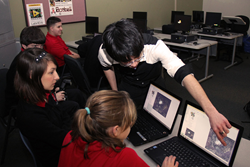 "Kids learn how to work in teams and how to manage a project from start to finish."Ray Shaik, founder of techJOYnT
Oklahoma City OK (PRWEB) November 20, 2014
Oakdale public schools are developing their STEM program (Science, Technology, Engineering and Maths) with the help of techJOYnT Academy, which provides an 8 week after-school program in different areas: Starting in January 2014 was the LEGO Robotics course, and now the Game Design class just ended, after 8 weeks of learning how to create a video game. Students will present their inventions next Monday, November 24th, 2014. Oakdale students are learning about technology using tools that help in problem-solving and thinking outside the box.
"Kids learn how to work in teams and how to manage a project from start to finish," said Ray Shaik, techJoYnT's founder. "The skills they learn today will prove valuable throughout their lives. And, because they are learning science in a hands-on way, they are having fun." Indeed the classes are very interactive, with innovative hands-on labs, which allows students to learn by making.
While there are several online STEM programs, techJOYnT is known to differentiate itself through facilitation of these classes alongside the teachers who know the students well. They let the teachers take care of classroom management, discipline in class, keeping the students on track; while techJOYnT delivers the skills through its high skilled faculty, on site or virtually. This approach allows techjoynt to scale and deliver high quality STEM education without compromising in class project based learning experience.
STEM education is becoming increasingly important in schools, because students need to be trained in technological fields to become competitive in the global workforce. Technology is part of our daily lives, and even more so for younger generations. They have to learn the skills related to STEM to get the jobs of tomorrow.
techJOYnT Academy wants to help schools do so with their GEAR program: Game design, Electronics, App development, and Robotics are the courses offered.
They have been teaching Game Design twice a week to 4th to 8th graders in Oakdale public schools in Edmond, OK, for eight weeks now, and the students will finally present their projects to their parents and teachers next Monday, November 24th.
techJOYnT also provides those 8 week classes to Crutcho public schools, which are low income, at risk schools and to the Police Athletic League, which is a community organization serving at risk youth in south west Oklahoma City.
techJOYnT Academy encourages anyone who is interested in starting an after school program (for robotics or game design) to contact their founder, Ramier (Ray) Shaik. Please email all inquiries to ray(at)techjoynt(dot)com
About techJOYnT Academy
techJOYnT delivers curriculum to reinforce traditional science, technology, engineering and mathematics education. The organization offers families, students, and mentors the opportunity to learn engineering and entrepreneurship concepts through hands-on robotics and game design projects. Programs are offered at local libraries, community centers, public and private schools, and at techJOYnT Academy's location.
To learn more about TechJOYnT, follow them on Facebook and Twitter.