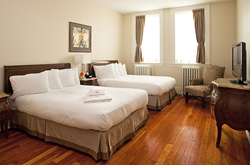 The Double Delxue rooms, now available at the Victorian, are equipped with a number of luxuries
Vancouver, BC (PRWEB) November 20, 2014
The Victorian Hotel, located in downtown Vancouver has recently renovated a number of its Vancouver Hotel Rooms, and has added a luxurious option for visitors looking for extra space. New Deluxe Double rooms now added at the Victorian include all the standard amenities offered by the hotel, such as luxury bedding, iPod docking stations, complimentary wifi, and fluffy towels, along with two comfortable deluxe double beds that will ensure even sleepers needing a lot of space will be comfortable.
With the city offering so much to see and still being small in size, many hotels in Vancouver are small and give a stuffy feeling. However, the Victorian Hotel, being situated on Homer Street, has spacious rooms and wide corridors. This is especially true for the Deluxe Double Rooms that let guests have the best kind of comfort and relaxation.
The Double Delxue rooms, now available at the Victorian, are equipped with a number of luxuries set amongst an atmosphere that will remind you of a by-gone era, with 14 foot high ceilings, Victorian furniture and original hard wood floors.
About The Victorian Hotel
There are a number of options available when looking for Vancouver Hotel Rooms, but the Victorian is in a class all by itself. Located at 514 Homer Street in historic downtown Vancouver, the Victorian combines history with luxury and the past with the comforts of the modern age. Each of its 47 newly renovated rooms includes a number of luxuries for the 21st Century traveler, including flat-screen televisions, comfortable bed sheets and of course, fluffy towels and bathrobes. More information about the Victorian Hotel is available at http://www.victorianhotel.ca or on the phone at 604.681.6369.