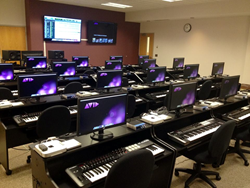 The goal of the new Music Industry major is to open more doors of opportunity for students after graduation
Houghton, NY (PRWEB) November 20, 2014
This new major will allow students to be more marketable in such job sectors as music technology and production, music business, worship arts, music industry, recording and broadcast engineering, artist and label marketing, artist booking and management, staff songwriting, music publishing, tour management, live sound engineering, tour support, concert promotion, film and video game composition and performance law.
To prepare students to meet the challenges within the music industry, worship arts and entertainment job markets, Houghton's music industry degree will offer courses that will teach students the necessary skills to become successful within their respective fields.
"The goal of the new Music Industry major is to open more doors of opportunity for students after graduation while still maintaining high standards of musical excellence and technical facility, creativity, applied knowledge and spiritual growth as part of a student's experience at Houghton," commented Kevin Jackson, director of technical arts and music industry instructor at Houghton.
Classes such as Introduction to Pro Tools and Pro Tools Production 1 will give the students hands-on experience with Avid Pro Tools, which is the most widely used recording software in the professional audio world. The students will also be able to acquire Pro Tools certification after taking the courses, which allows a future employer to see that a student is a skilled Pro Tools user.
Courses such as Recording and Studio Technique, Music Production Analysis, Advanced Music Production, and Critical Listening and the Art of Mixing allow students to learn hands-on music production, recording and mixing from the start of a project all the way through the completion of it.
Other courses like Sound Design and Processing for Film, TV and Video Games, and Introduction to Film Music, focus on broader topics like compiling and creating sound effects and composition for film, TV and video games. They also focus on what makes a great film and video game score versus a mediocre score. Not only do students analyze these differences, but they put this knowledge to hands on production by crafting their own scores and sound effects.
And finally, for students who are looking to pursue the business, marketing and artist management side of the entertainment industry, there is a broad range of music business and business courses. Courses like Introduction to Music Business, Business Law and Business Communication teach students how to launch, market and run a record label while making sure that the label is maximizing its revenue streams and abiding by the laws that govern the music business.
When a student leaves Houghton College and pursues a job, whether it is in a church, studio, label or production company, they can enter the job market confidently, knowing that their music industry education at Houghton equipped them well.
The Greatbatch School of Music has a very long tradition of excellence, and through the years has been modeled after the greatest of American conservatories of music. The school has been a member of the National Association of Schools of Music (NASM) since 1947. The NASM accredits only about 647 schools of music nationally, placing Houghton in the company of top schools in the nation.
In the midst of this exciting development, associate dean and director of the Greatbatch School of Music, Dr. Stephen Plate, commented, "Our motto remains, 'Musically Excellent; Academically Engaged; and Profoundly Christian.' We are excited about all that is happening in the Greatbatch School of Music and the depth and breadth of the faculty that has been assembled here for such a time as this."