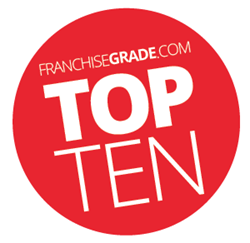 New York, NY (PRWEB) November 20, 2014
Their research team analyzed data from 380 QSR franchise systems to discover that the QSR sector has enjoyed a 6.1% growth in franchised outlets since 2010.
Full reports and samples are available from their QSR Report page.
The FranchiseGrade.com Top 10 list is assessed primarily from the results of their Franchise Performance Index (FPI), a multifaceted review of critical franchise investment factors: franchisee turnover rates, system outlet growth, length of agreements, territory rights, number of lawsuits and financial performance representations. Combined with other factors, these are used to grade the overall performance of a franchise system.
Jeff Lefler, founder and CEO of FranchiseGrade.com states, "Our FPI ranking and grading scale provides an in-depth,analysis of franchise systems. We use FPI to help prospective franchisees find great franchise investment options. This supports the growth of healthy, successful franchise brands. We take pride in knowing that our research data and reports are high-value resources for every industry investor."
FranchiseGrade.com's Top 10 Quick Service Restaurant franchise systems:
1. Sonic America's Drive-In
2. Jack In The Box
3. Panera Bread
4. Culver's Frozen Custard & Butterburgers
5. Peter Piper Pizza
6. Wendy's
7. Papa John's Pizza
8. Jamba Juice
9. Burger King
10. Gigi's Cupcakes
Further details and FranchiseGrade.com's list of the Top 25 QSR franchise systems, are available here.
Mr. Lefler continued, "Prospective franchisees should always conduct their own due diligence to ensure a particular investment is right for them. Our Franchise Performance Index is an excellent starting point in their research to find those higher quality franchise investments."
FranchiseGrade.com offers their FPI grading assessment on thousands of franchise systems throughout the U.S. with detailed reports on specific franchise sectors. Their Report Page offers a suite of research and reporting tools.
About FranchiseGrade.com
FranchiseGrade.com is the leader in competitive market research and objective analysis for the franchise industry. Their franchise assessment, grading and standardized reporting tools provide industry stakeholders with critical data driven metrics to support the growth of successful franchise systems. FranchiseGrade.com works to raise the bar for market research in the franchise industry to build a stronger franchise community.