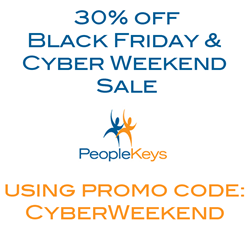 "If there's one thing that's clear this holiday shopping season it's this: Cyber is the new Black."
Boardman, Ohio (PRWEB) November 25, 2014
Black Friday is changing. What used to be a one-day event, is now starting earlier and lasting longer. In response to the shift in the way that shoppers and retailers are approaching the shopping holiday, one of the world's leading behavioral analysis and personality testing firms, PeopleKeys, has announced plans to make major changes to their traditional sales event. Their "Cyber Weekend" sale will start on November 28 and last through midnight on December 1.
During the PeopleKeys.com Cyber Weekend sale, shoppers will be able to take advantage of an across-the-board 30% discount on all PeopleKeys personality testing products using the promo code "CyberWeekend". This new approach will take the two most anticipated shopping days of the year and combine them into a four-day event spanning the entire weekend after Thanksgiving.
PeopleKeys Director of Operations Ashley Kulkin said, "Even though Black Friday and Cyber Monday have traditionally been two of our busiest days of the year in terms of site traffic, we're so excited to be able to offer a way for shoppers to avoid the pressures of one-day sale events. By extending our post-Thanksgiving sales into a 4-day Cyber Weekend event, people will be able to shop around their schedule. More importantly, shoppers can spend time with their family on the days around Thanksgiving without feeling pressured to trudge out into the cold to get a bargain. More time for you, more time for your family, more time for shopping. What could be better?"
During the PeopleKeys Cyber Weekend online sale, personality tests and DISC personality style reports will be offered for under $20. Other sample savings include:

"This is one of the great advantages to having an online store," said Kulkin. "We can be open 24/7, which is great for the customer, but don't have to ask our employees to work all hours of the night and sacrifice time with their families over the holidays."
"If there's one thing that's clear this holiday shopping season," joked Kulkin, "it's this: Cyber is the new Black."
PeopleKeys specializes in personality tests and DISC behavioral analysis tools that are designed for a wide range of applications including self-improvement, sales, education, and business development. For a closer look at the all of the DISC offerings from PeopleKeys, click here. Visit their online store between November 27th and December 1st to take advantage of their Cyber Weekend sale.
About PeopleKeys
PeopleKeys is a leader in the field of Behavioral Analysis, and is one of the world's largest publishers of DISC products. PeopleKeys has helped countless people around the world gain a better understanding of themselves and others, and to reach their full potential. For more information about PeopleKeys and their DISC solutions, please visit peoplekeys.com. Online merchandise during the PeopleKeys Cyber Weekend sale are available at discinsights.com. For more information, contact Marketing Manager Kaitlyn Miller at 330-599-5580 x113.