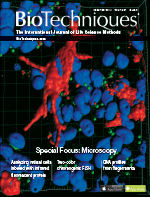 New York, NY (PRWEB) November 20, 2014
The November 2014 issue of BioTechniques (http://www.biotechniques.com) is now available as an open access journal featuring the following articles:

Marking cells with infrared fluorescent proteins to preserve photoresponsiveness in the retina
DNA from fingermarks
Two-color fluorescent in situ hybridization using chromogenic substrates in zebrafish
Re-use of commercial microfluidics chips for DNA, RNA, and protein electrophoresis
Nuclear LC3-positive puncta in stressed cells do not represent autophagosomes
Map the Brain with CLARITY
PhilisaFAST™ DNA Polymerase - Technical Note Ultra-Fast PCR using PhilisaFAST™ DNA Polymerase
A Special News feature: Three photons are better than two
A Tech News article: Mapping neural connections
Issue keywords: fluorescent proteins, cell imaging, cell tracking, retina, DNA profiling, forensics, direct PCR, sample preparation, DNA biophysics, FISH, gene expression analysis, visualization, confocal microscopy, chromogenic substrates, fluorescent reporters, microscopy, autophagy, cancer research, antibodies, monoclonal, polyclonal
Also available is the October 2014 issue of BioTechniques featuring the following articles:
A lentiviral-based approach for the validation of cancer therapeutic targets in vivo
Investigation of membrane protein–protein interactions using correlative FRET-PLA
A gel electrophoresis loading system to prevent laboratory contamination by amplification products
Next-generation sequencing of custom amplicons to improve coverage of HaloPlex multigene panels
A simple semi-quantitative in vivo method using H2S detection to monitor sulfide metabolizing enzymes
Philisa© ampC ID Kit – Technical Note
Super-resolution microscopy gives new insights into nuclear pore complex organization
A Tech News article titled "Correlating light and electron microscopy"
Issue keywords: Lentiviral vectors; cancer research; genetic manipulation; cancer mouse models; tumor biology; target validation, FRET; proximity ligation assay; protein-protein interactions; protein analysis; proteomics, gel electrophoresis; molecular biology; PCR; laboratory contamination, target purification, target enrichment; sequence enrichment; next-generation sequencing; sequence library construct; sequence assembly
BioTechniques is available in print, digital replica, and mobile app formats for iPad, iPhone, and Android phones and tablets. Subscribe online to receive print editions by mail or monthly email alerts for digital and mobile app editions. Digital and mobile access is available at least one week prior to print issues.
To view digital replica editions or download mobile app platforms for Apple or Android devices from the Apple App Store, Google Play or Amazon Appstore, visit: http://www.biotechniques.com/digital
To request a subscription or update your subscription to include digital and mobile alerts, visit: http://www.biotechniques.com/subscribe
About BioTechniques
BioTechniques, the international journal of life science methods, provides open access to first-quality, peer-reviewed papers on laboratory techniques and protocols. Now in its 57th volume, BioTechniques has over 80,000 print subscribers worldwide. The journal augments its peer-reviewed content with feature articles and topic-specific supplements. Visit http://www.biotechniques.com for more details or to subscribe.