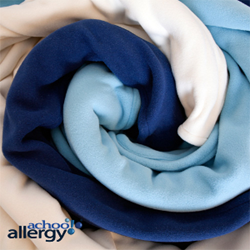 With the new fabric, you can feel the difference. It's softer, thicker, and warmer but retains the qualities that made them popular with those suffering from allergies and asthma
Atlanta, GA (PRWEB) November 25, 2014
With the first full blast of winter here, warm up with the new Polartec Fleece blanket from AchooAllergy.com. Following the popularity of their original hypoallergenic fleece blanket, the new Allergy Amor Polartec Fleece showcases noticeable improvements while remaining true to the company's "Made in the USA" pledge.
"While our original fleece blanket was well received, there were some areas where it could have been better. Taking customer feedback into account, we made the changes that consumers wanted. We now provide a blanket that has more to offer at a greater value," states AchooAllergy COO, Jamie Harless.
The new Allergy Armor Polartec fleece blanket is constructed from a heavier, plusher fleece. A leader in domestic textile production, Polartec fabrics are synonymous with warmth, cutting edge innovation, and superior durability. This heavier fleece adds little to the overall weight of the blanket while making it better suited for the colder fall and winter months. Original construction had seams in the larger sizes, but now each allergy blanket retains the extra six-inches of length without the seams.
Available in three sizes and colors, the new Allergy Armor Polartec fleece blankets start at $69.99 ($20 less than before). Cut, sewn, and packed in AchooAllergy.com's Atlanta, GA headquarters, each Polartec blanket is made in the USA from start to finish.
"With the new fabric, you can feel the difference. It's softer, thicker, and warmer but retains the qualities that made them popular with those suffering from allergies and asthma," says Harless. "It's still machine washable, won't pill, and provides plenty of warmth even on the coldest of days."
For those with allergies, asthma, COPD, or other respiratory conditions, dust mites, pollen, and other particulate can trigger reactions. It is important to wash bedding frequently and in hot water to remove these particles. This is where a durable allergy blanket can help by not only providing warmth but also standing up to the frequent, but necessary, washing.
The Polartec Fleece blanket joins the line of Allergy Armor bedding products that includes allergy friendly and American made dust mite covers for mattresses, pillows, and duvets as well as allergy pillows and comforters.
Founded in 2001, AchooAllergy.com is a leading manufacturer and retailer of allergy relief bedding and environmental control products. From HEPA air purifiers and allergy bedding to HEPA vacuum cleaners and dehumidifiers, AchooAllergy.com specializes in a wide array of products to help you control your indoor environment and reduce your allergies, asthma and eczema without medication. For additional information, visit http://www.achooallergy.com and browse the Learning Center or the AchooBlog. For a personalized consultation, try the live online chat or call 1-800-339-7123.