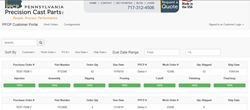 We designed our new customer portal to provide quick, easy, immediate access to job status right on line.
Lebanon, PA (PRWEB) November 21, 2014
Pennsylvania Precision Cast Parts (PPCP), an industry-leading investment casting company located in Lebanon, Pa., has launched a new customer portal on its website, http://ppcpinc.com. The portal provides an immediate way for customers to monitor the status of all of their PPCP investment casting jobs, from start to finish.
"We designed our new customer portal to provide quick, easy, immediate access to job status right on line," says Andrew Miller, President and CEO of PPCP. "It's another way we make it easy to do business with PPCP."
To utilize PPCP's customer portal users can sign up to get a user name and password by clicking LOGIN at the top right side of the PPCP website. After making sure that the person making the request is authorized, the user with can have complete access to their company's job status.
The customer portal provides the following information about each job: purchase order number, part number, order quantity, due date, PPCP number, work order number, quantity shipped and ship date. For each job, the percentage of completion is indicated for the following process phases: injection, assembly, dipping, pouring, cutoff, finishing and final inspection. In addition, jobs can be sorted and displayed by any of the following criteria: customer, work order number, P.O. number, due date, ship date and due date range.
"Customer portal information is updated at the end of each day, so the information is very current," says Miller. "Of course, customers can always contact us for questions and further information."
Customers who take advantage of PPCP's Zero Days Lead Time Stocking Program (consignment program) can view current inventory, in process, work order, target quantity and remake level. Jobs are also sortable by multiple criteria.
The PPCP customer portal can be accessed using virtually all current platforms on computers, tablets and smartphones.
"We are pleased to be able to offer this new service to our customers, along with the many other features on our website," says Miller. "Continually striving to add value for our customers is a top priority at PPCP."
Company Information - Pennsylvania Precision Cast Parts (PPCP) is an industry-leading manufacturer of top-quality investment castings for a broad range of parts, industries and applications. PPCP has the experience, technical expertise and quality-assurance processes necessary to consistently and reliably deliver castings up to 250 pounds in an extensive array of alloys, from steel and aluminum to highly specialized materials. Located in Lebanon, Pa., PPCP has two fully equipped facilities, cutting-edge equipment and technology, advanced processes and one of the most experienced teams in the industry. PPCP delivers investment casting excellence through exceptional People, Process and Performance.