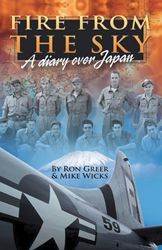 Greer's journal entries as a young man and his reflections six decades later bridge the generational gap between World War II and the present
Little Rock, AR (PRWEB) November 21, 2014
After being handpicked to join a specialty B-29 Superfortress bomber crew, Herb Greer found himself as a radio operator aboard the most advanced aircraft of his generation. Though he was shut away in a windowless space, Greer's crew relied on him to be their window to the outside world.
In his new book "Fire from the Sky: A Diary Over Japan" author Ron Greer shares the handwritten diary entries his father, Herb Greer, kept over his 28 missions in the final months of World War II. Herb Greer was a 23 year old selected to be the radio operator on a massive aircraft with a crew that was untested in combat.
Using a pen light on a radio table, Greer kept record of the ever changing emotions he experienced while flying through hostile air.
"Fire from the Sky" not only gives readers insight into the real-time emotions and missions of the crew, but readers also hear from Herb Greer six decades later as he reflects and elaborates on his journal entries.
"Writing this book was a tribute to my father for his undying selflessness in providing for his family and service to his country," said Ron Greer.
Herb Greer's journal entries as a young man and his reflections six decades later bridge the generational gap between World War II and the present appealing to readers of varying generations. The missions detailed in the book share some of the sacrifices made to maintain the freedoms we enjoy today.
For more information, visit http://www.diaryoverjapan.com
"Fire from the Sky: A Diary Over Japan"
Ron Greer
ISBN: 978-1475-997-125
Available in softcover, hardcover, e-book
Available on Amazon, Barnes & Noble, and eBay,
About the author
Ron Greer attended the University of Arkansas in Fayetteville prior to his military duty in the US Air Force. He served in the Vietnam War and later spent 25 years in human resources management. Greer retired as Market Vice President for Kraft foods. Greer resides in Cabot, Arkansas.