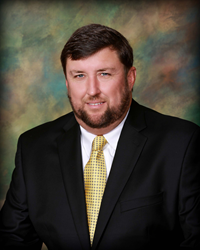 Perry, GA (PRWEB) November 24, 2014
AgGeorgia Farm Credit is pleased to announce the recent addition of Mr. W. Howard Brown as a newly elected Director. Mr. Brown, of Macon County, operates W. Howard Brown Farms, LLC, and is owner/president of Georgia Peas & Produce. He also works his father's farm, growing row crops along with vegetables, peaches and pecans. He graduated from Abraham Baldwin Agricultural College with an Associate of Science in Agronomy and attended the University of Georgia. He currently serves as chairman of the Macon County Zoning Board, vice chairman of the Macon County Farm Bureau, and chairman of his local FSA. He is also a member of the Macon County Development Authority, the Georgia Agribusiness Council, and the Georgia Vegetable Growers Association, and is a director and trustee for Southland Academy. He and his wife Loren have two children, Witt and Kaitlin. Mr. Brown will provide significant guidance to the Board with his education, board background, community involvement experience, and knowledge of farming.
AgGeorgia is also pleased to announce the other results of the recent Director Elections and congratulate the successful candidates. For the seven Director positions expiring 12/31/14, six current Directors were re-elected to their respective positions for a three-year term. These were: James B. Carlton of Hart County; Dan N. Crumpton of Warren County; Anne G. Smith of Madison County; Ronney S. Ledford of Dooly County; Joseph Marion Meeks of Washington County; and Bobby G. Miller of Hall County.
About AgGeorgia Farm Credit
AgGeorgia Farm Credit is an agricultural lending cooperative owned by its member-borrowers. It provides farm loans for land, equipment, livestock and production; rural home mortgages, and services such as crop insurance and leasing. AgGeorgia Farm Credit has 20 branches serving 79 counties in Georgia. It is part of the national Farm Credit System, a network of financial cooperatives established in 1916 to provide a dependable source of credit to farmers and rural America. For more information, visit http://www.aggeorgia.com.