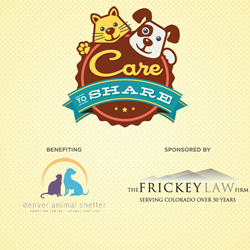 "It costs roughly $25 per animal per day," - Andy Rees, Marketing and Outreach Coordinator at the Denver AS.
Denver, CO (PRWEB) November 22, 2014
Caring for more than 8,000 homeless animals isn't easy or cheap.
From food to bedding, treats to vaccinations, the Denver Animal Shelter (DAS) does it all for the animals it takes in. The shelter houses more than 8,000 homeless animals throughout the year, and that becomes expensive.
In 2013, DAS took in more than 7,000 dogs and cats combined, all in various states of health. While they have an on-staff veterinarian to minimize costs, the animal's basic care still expensive.
"It costs roughly $25 per animal per day," said Andy Rees, the Marketing and Outreach Coordinator at the DAS. "That figure includes all of the basic care that the animal needs and does not account for additional costs."
Those additional costs don't include care for animals with special needs, like a special diet or additional medication. The $25 doesn't include treats, toys, collars and leashes, either.
According to Rees, volunteers use treats to help with leash training and helping shy animals become more comfortable around people. Working with the animals helps them become more adoptable.
For help with those items, the DAS relies on donations. To help raise donations for the animal shelter, The Frickey Law Firm has launched a donation drive called "Care To Share."
According to Adam McClure, a personal injury lawyer at the Frickey Law Firm, helping is what the firm is all about.
"We've been helping Colorado residents for more than 50 years," McClure said. "And I think helping the Denver Animal Shelter fits us perfectly. We help people in their time of need, so this isn't a stretch for us. We're really excited to work with them on getting what they need for these animals."
While the ultimate goal is to find homes for these animals, improving their day-to-day life would be considered a success as well.
"In a perfect world, these cats and dogs would be in a loving home," McClure said. "Just because they're in a shelter doesn't mean they should go wanting. The least we can do is help the Denver Animal Shelter provide a comfortable place for them before being adopted."
The donation drive is collecting collars, leashes, blankets, towels, cat or dog toys, rawhides and treats. Those wanting to donate can drop off items a donation station.
"We've set up three stations in the metro area," McClure said. "We have one donation box at our Lakewood and Denver office, and one donation box at the animal shelter."
But donating items isn't the only way people can help. The Denver Animal Shelter accepts donations through their website. And to show the donation isn't solely on Denver residents, the Frickey Law Firm will also be donating money.
"We're making this easy for people to help," McClure said. "If they can't donate treats or towels, or can't donate any money, then we'll donate one dollar for every Facebook like the Frickey Firm gets until December 15."
For more information on the "Care To Share" donation drive, please visit The Frickey Law Firm's website and click the "Care To Share" button on the home page or visit http://www.frickey.com/care-to-share/.