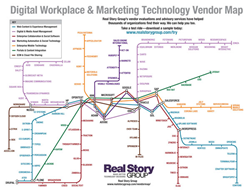 Boston, MA (PRWEB) November 24, 2014
In a 10 year-old tradition, independent analyst firm Real Story Group has just released its 2015 Technology Vendor Map, tracking more than 150 global vendors competing across seven different technology areas:

Web Content & Experience Management
Digital & Media Asset Management
Enterprise Collaboration & Social Software
Marketing Automation & Social Technology
Enterprise Mobile Technology
Portals & Content Integration
ECM & Cloud File Sharing
What's Changed, What Hasn't
Some long-term trends persist. For customers, a plethora of point solutions await in "the periphery." While large, "center-city" vendors continue to try to cobble together suite-based solutions, innovation thrives at the edges of these marketplaces.
The map also captures some deeper trends:
The Microsoft station has gotten scaled back a bit — mostly on the digital marketing side, by dint of Redmond eschewing most marketing automation needs, media management, and mobile middleware
The map tracks the growing importance of players like Adobe and Salesforce
As always, the number of "stations" for any given vendor does not indicate its quality or weight in the marketplace. RSG's map is just a visual of what vendors purport to sell.
For detailed evaluations of the pros and cons of each solution, consult RSG's stream-by-stream reviews.
Higher-resolution versions of this map are available for download.