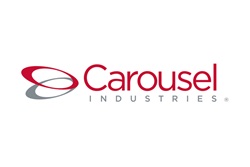 Palo Alto Networks is excited to work with Carousel Industries, an integrator that has built its success on mastering voice, video, data and security technologies
Exeter, RI (PRWEB) November 20, 2014
Carousel Industries, a leader in unified communications, managed services, data solutions, and security, announced that it has signed an agreement to carry industry leading enterprise security offerings from Palo Alto Networks. Effectively immediately, the entire Palo Alto Networks portfolio of enterprise security offerings — combined with Carousel Industries comprehensive security managed services offerings — will be available to thousands of Carousel customers across the United States.
As a leader in enterprise security, Palo Alto Networks offers an integrated platform using next-generation firewalls, cloud-based threat intelligence and advanced endpoint protection, helping enterprises and governments secure their organizations, detect and prevent known and unknown threats, and safely enable an increasingly complex and rapidly growing number of applications.
"Carousel is excited to play an integral role in Palo Alto Networks' channel development strategy as they increase their geographic customer base and secure future growth," commented Jeffrey Hewson, National Sales Director, Data Networking Group at Carousel Industries. "Our ability to provide turnkey security solutions, along with a complete security managed services offering and a dedicated Security Operations Center (SOC), enables us to deliver comprehensive breach detection and incident response. The Palo Alto Networks' portfolio — as well as its preventative approach to cybersecurity — help us address the security concerns that each of our customers are facing today."
As legacy business applications (voice & video) continue to migrate to virtualized platforms, integrate within data centers, and are accessed via mobile devices, providing comprehensive security solutions is paramount. Palo Alto Networks' application visibility reporting and threat management software, combined with Carousel's experienced staff and extensive 24/7/365 monitoring capabilities, enable delivery of a total security package that is particularly relevant to mid-market organizations — many of whom depend on Carousel security experts as an extension of their own staff.
"Palo Alto Networks is excited to work with Carousel Industries, an integrator that has built its success on mastering voice, video, data and security technologies," said Todd Palmer, vice president, Americas Channels at Palo Alto Networks. "We look forward to serving customers hungry for a true enterprise security platform."
For more information on Carousel's data security offerings, please visit: http://www.carouselindustries.com/solutions/data-technologies/it-security .
About Carousel
Carousel Industries consults, integrates, and manages technology solutions that solve business problems and contribute to your organizations' growth. This includes unified communications, managed services, virtualization, Voice over IP (VoIP), video conferencing and collaboration and data infrastructure solutions.
Today we have over 6,000 customers, including 35 of the Fortune 100. Carousel has been recognized by both VAR and CRN Magazines as one of the top technology integrators in the US and we've been listed in the Inc. 500/5000 seven times. Carousel is headquartered in Exeter, RI, with over 1,000 employees working from offices in 30 locations across the US, including over 250 service technicians deployed across the country. For more information visit: http://www.carouselindustries.com