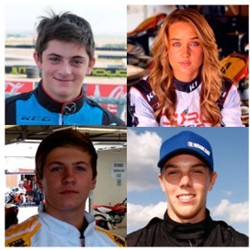 Grand Junction, CO (PRWEB) November 21, 2014
Sabré Cook, the 19 year old from Grand Junction Colorado, is edging ever closer to reaching her goal of becoming an Indycar race driver. As noted on her website, sabrecookracing.com, "With the heart of a champion and gasoline driving through her veins, Sabré Cook lives for racing." Sabre's accomplishments on the track include; 6-time Colorado State Champion, 2012 Superkarts USA S2 Semi-Pro Stock Moto Champion, 2 TAG USA World Championships and a SKUSA Mountain Region title. Off the track she is majoring in mechanical engineering and maintaining a 4.0 grade average.
Just last month, Cook competed in Sarno, Italy at the KZ World Cup. This is the most prestigious karting race in the world, as it crowns the world champion for the 2014 season. There were a total of 109 drivers from 21 countries in her class. Only 34 drivers made it to the final, and Sabré became the first female in history to be included in this main event. Unfortunately, her motor blew up on the opening lap so she did not finish the race. After the event Cook said,"This weekend was definitely a good learning experience and I was really excited I could make it to the final. I think I could have given a good fight but unfortunately the motor blew up after the first lap and a half. You know, it happens sometimes. It is frustrating but I am really glad I could get the experience even though it maybe did not go the way I wanted. KZ2 is very difficult, very challenging. Racing mentality over here is very different from the US, it is much more aggressive. It was a big adjustment for me. Drivers are crazy sometimes in Europe, but it is good because they pushed me to get better and I definitely needed that this year so I am glad I came here. These guys are just amazing drivers."
Rotax is the largest racing series in the world in any form of motorsports with over 15,000 drivers competing each year. This year, Mazda Road to Indy and MAXSpeed Group partnered to create the Driver Advancement Program Mazda Road to Indy to foster the next wave of up-and-coming drivers. This partnership creates a true 'ladder program' from the grassroots of karting to the upper echelon of motorsports in North America. What began as a field of 250 drivers was narrowed to 12 semi-finalists, and through a series of extensive interviews the final 4 winners were chosen. The four rising stars chosen were Oliver Askew, 17, of Tequesta, Fla.; Christian Brooks, 14, of Santa Clarita, Calif.; Sabré Cook, 19, of Grand Junction, Colo.; and Austin Versteeg, 15, of Sandy, Utah. These drivers will be given the opportunity to "sample" the next step in their careers at the Homestead-Miami Speedway in Florida on January 28, 2015. Each driver is awarded a full one-day test and will turn their first USF2000 laps with the support of both Mazda Road to Indy and MAXSpeed Group personnel.