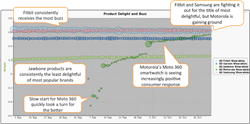 The Moto 360 is the hottest smart watch on the market today, proving round is the new black for wearables.
Los Gatos, CA (PRWEB) November 20, 2014
Argus Insights is pleased to announce the availability of October Consumer Demand Reports, which:

provide an unprecedented view of where consumers are leading specific markets
organize a wealth of consumer feedback with detailed, apt, analysis
demonstrate market trends resulting from consumer preferences.
The looming presence of the Apple Watch is weighing heavily on consumer interaction in the Wearables Market, but new products from other brands such as Fitbit, Microsoft, and Motorola, are demanding attention in the meantime. Garmin was the only major brand, outside of the Moto360 launch, to maintain mindshare during October, a sign that their recent product expansion is finding ready adoption with fitness focused users.
Examining the cause of shifts in consumer loyalty and interaction, insights in this report can help clients track the market to predict future product adoption, determine consumer brand loyalty and purchasing habits, and discover which features are delighting and discouraging consumer interaction.
Motorola boomed into the market this month with their Moto 360 smartwatch, and quickly became the most delightful brand. The details of consumer response to the Moto 360 provide valuable lessons for other companies about user preferences within the smartwatch market.
To understand the adoption of the Internet of Things, we must look toward the Internet of HumansTM. Argus Insights sorts through the chaos that is consumer response to extract and interpret invaluable advice from the very people purchasing products.
More detailed analysis is available in the report, purchase your October Wearables Consumer Demand Report today. Reports are also available in the Home Automation and Smartphone market.