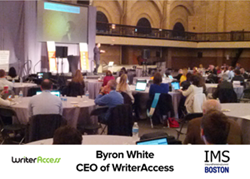 The most successful companies will be those which hire marketing writers who already understand the digital world.
Boston, MA (PRWEB) November 21, 2014
Byron White, a serial entrepreneur and original content marketing revolutionary, loves spreading the word about winning content strategies. When the founder/CEO of WriterAccess was asked to speak at this year's Inbound Marketing Summit (IMS) in Boston, he jumped at the opportunity to educate attendees about the power of "selling without selling."
White kept the audience engaged and enthused while delivering an important message about using content marketing to attract customers and grow a business. Content marketing is the highly effective practice of creating and distributing valuable and informative content to attract the attention of a targeted audience, with the goal of creating lifetime relationships. WriterAccess is an industry-leading platform that helps businesses hire marketing writers who provide top-notch content that will meet this goal.
IMS is a premiere marketing event which attracts business leaders, CMOs, digital marketers, and sales executives eager to learn about leveraging today's digital, mobile and social media marketing opportunities to generate sales. Launched in 2008, the Summit has grown into a prestigious marketing event that brings together thousands of marketers to hone their digital marketing skills.
White started his presentation by explaining the content marketing workflow and discussing A-B and multi-variant testing. These strategies are used to move customers down the sales funnel. The part of his speech that really stole the show, however, was his presentation of "10 Strategies to Create Content that Engages Readers and Performs."
"I think attendees were thirsty for knowledge about content marketing," commented White. "Online marketing opportunities have exploded in the past few years and marketers that learn how to take advantage of them are going to experience great success. They can't do it alone, though. Content marketing is now a team sport. The most successful companies will be those which hire marketing writers who already understand the digital world."
WriterAccess presented guests with free copies of the company's Content Marketing Kit, while White signed copies of his books, Professional Writing Skill and Price Guide and The Content Marketing Roadmap.
WriterAccess is an online marketplace connecting customers directly with expert writers. It's a Platform-as-a-Service developed by ideaLaunch, a leading provider of content marketing services and solutions. The company's mission is to streamline content creation with great writers and editors who all have the passion, expertise and experience needed to help grow a business organically—the content marketing way. Visit the website or call 617-227-8800 for further information.