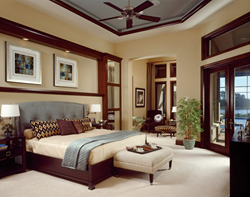 Clearwater, FL (PRWEB) November 20, 2014
When customers are ready to build their own home or move into one, ideas about the spaces in the home come up and can often be confusing.
Following trends is always smart to avoid a "Dated" looking home, but following them too closely means that consumers might have to update their homes too often. Finding a balance between long term looks and just being "trendy" is important.
The article relates that there are almost as many "styles" as there are people's personalities, but it illustrates some of the top trends that will likely endure for a while. The article also provides some of the benefits of the particular style choices. Readers may be able to match up the best style with their personality in selecting ideas for their bedrooms.
The trends that occur in most custom home building are somewhat slower to change than in the fashion industry, although they are often compared. There may be trends that quickly change in home accessories, but overall, changes occur over years rather than seasons. Additionally, structural changes to bedrooms are even slower to change. The mainstay of custom homes now is a walk in closet. However, just a few years ago, this was a feature reserved for only the most upper end mansions. Today, custom home builders regularly design their layouts around features like this instead of attempting to incorporate them as an afterthought.