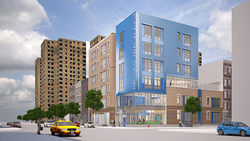 "The East Harlem Education Center will be the center of its community and more," says Christine Schlendorf, a Board Director of Perkins Eastman and Principal-in Charge of the project
New York, NY (PRWEB) November 20, 2014
Top international design and architecture firm Perkins Eastman congratulates East Harlem Tutorial Program on the November 19 groundbreaking of the new East Harlem Education Center. Designed by Perkins Eastman, the six-story 50,500 sf building has been designed as the flagship for East Harlem Tutorial Program (EHTP) and its affiliated programs as well as a purpose-built home for East Harlem Scholars Academy (Scholars Academy), one of its two charter schools for the children of East Harlem. The Center is located at the corner of 2nd Avenue and 105th Street in Harlem, New York. The building is scheduled to open in 2016.
"Perkins Eastman has been honored to work with East Harlem Tutorial Program and its staff, its students, and the surrounding community on this important facility," says Christine Schlendorf AIA, a Board Director of Perkins Eastman and Principal-in-Charge of the project. "We believe that schools should function as the centers of their communities. The East Harlem Education Center will be that and more; it will be an opportunity and an access point for higher achievement in education and in life for countless East Harlem students."
The new building represents a culmination of success for EHTP, which since 1958 has been providing college preparatory after-school programs in the community and more recently has started operating public charter schools. This new facility replaces the existing spaces previously located in four separate buildings and represents the true collaborative and multi-faceted nature of EHTP's family of programs. Serving over 1,000 students in its public charter schools and after-school education programs, the EHEC has been designed to seamlessly shift over the course of a day from the primary school function of supporting Scholars Academy to a community facility supporting after-school programs, extra-curricular activities, tutoring, and counseling for students from grades K to 12 from schools throughout the East Harlem community.
"This groundbreaking marks an exciting milestone for East Harlem Tutorial Program. For 56 years we have been serving the East Harlem community and soon we will be able to provide those services in a state-of-the-art education space," said Jeff Ginsburg, Executive Director of EHTP. "Children will have access to the full range of cutting-edge resources featured in this new facility, including STEM and Robotics labs, a gym, and music and performance spaces."
The design for the ground-up building embodies the spirit of EHTP and its community and is meant to inspire a new generation of learners and citizens. To this end, the glass curtainwall at street level and the second floor will showcase the mission, values, and goals of the community facility in action. A multi-use facility, the building will offer flexible spaces for larger program areas and purpose-built specialty spaces for curriculum-driven innovation—including STEM and Robotics labs, wellness facilities including a gym, and music and performance spaces. The mix of programming and the organization of spaces throughout contribute to an inviting overall atmosphere that prioritizes safety and security.
About Perkins Eastman
Perkins Eastman is among the top design and architecture firms in the world. With more than 800 employees in 13 locations around the globe, Perkins Eastman practices at every scale of the built environment. From niche buildings to complex projects that enrich whole communities, the firm's portfolio reflects a dedication to inventive and compassionate design that enhances the quality of the human experience. The firm's portfolio includes education, science, housing, healthcare, senior living, corporate interiors, cultural institutions, public sector facilities, retail, office buildings, and urban design. Perkins Eastman provides award-winning design through its offices in North America (New York, NY; Boston, MA; Charlotte, NC; Chicago, IL; Pittsburgh, PA; San Francisco, CA; Stamford, CT; Toronto, Canada; and Washington, DC); South America (Guayaquil, Ecuador); North Africa and Middle East (Dubai, UAE); and Asia (Mumbai, India, and Shanghai, China).
Rendering available.
# # #