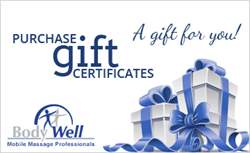 Now you don't have to go to the spa at all to redeem your Spafinder massage gift card
Fort Lauderdale, FL (PRWEB) November 21, 2014
Body Well Therapy, a leading provider of on-site "mobile" therapeutic massage services announced that it accepts Spafinder massage gift cards and gift certificates for massage in home, and in room hotel massage in all service areas including throughout Florida and the DC Metro area.
"Now you don't have to go to the spa at all to redeem your Spafinder massage gift card" noted Dan Melmed, Owner and Founder of Body Well. "We may not be able to transport all of the bells and whistles you might find at a well equipped spa, but I promise the massage and the individual attention you'll get will be even better!"
Clients interested in redeeming a Spafinder gift card for on site massage can simply call Body Well's main number (888) 929-WELL to speak with an in-house "Massage Concierge" who will assist in coordinating an appointment. Body Well also sells its own massage gift certificates both online and via telephone orders.
Additional mobile spa services are available depending on location, including aromatherapy, hot stone massage, body wraps and more.
About Body Well
Founded in South Florida in 2005, Body Well has become a premier on-site massage agency serving multiple metropolitan regions on the East Coast. The company services individuals with in home massage, in-room hotel massage, and injury therapy for automobile and worker's compensation claims, plus business clients with corporate chair massage services and event massage services. All contracted massage therapists are licensed, insured and must complete an extensive application and interview process including an in-person skill demonstration and thorough equipment evaluation to ensure the highest standards. The company can be reached seven days a week from 9 a.m. to 10 p.m. at (888) 929-WELL (9355).