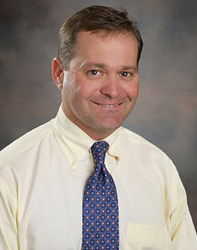 'It means a lot to me to be able to give back to the community and I feel fortunate to have employees and peers that share the same passion for keeping our city healthy and injury-free.' - Pat Wempe
Evansville, IN (PRWEB) November 20, 2014
ProRehab is proud to announce that Pat Wempe, DPT, SCS, CEO of ProRehab, was recently recognized as one of the Tri-State area's Health Care Heroes by the Evansville Courier & Press.
In addition to his role as therapist and CEO of ProRehab, Wempe has served as a part of the University of Evansville medical staff since 1990, provides medical support to the Evansville Vanderburgh School Corporation, and is heavily involved with community events like the Evansville Half Marathon. Over the course of his 26 years in the physical therapy field, he has also served as a consultant to NFL, MLB and military-branch sports teams.
"His interest in rehabilitation in sports has been the driver in keeping Evansville on the forefront of health care. ProRehab, Pat and his employees are doing research into patient care and rehabilitation that is recognized around the world," friend and colleague Dr. Andrew Saltzman told the Evansville Courier & Press.
"It's an honor to be recognized as a Health Care Hero in my hometown," said Wempe. "It means a lot to me to be able to give back to the community and I feel fortunate to have employees and peers that share the same passion for keeping our city healthy and injury-free. I look forward to treating and preventing injuries in local athletes of all ages for many years to come."
Health Care Heroes is a Tri-State recognition program that features local medical professionals who have helped the community get healthy and stay healthy. Twenty-five winners were selected by a panel of medical professionals and Evansville Courier & Press staff and were subsequently honored at a reception on October 23.
ProRehab prides itself on getting its patients better, faster, and stronger with longer, lasting results. Patients can expect to be seen within 24 hours of injury by an expert in injury prevention and treatment, like Dr. Wempe. To make an appointment at a clinic near you or for more information on ProRehab services, call (812) 476.0409 or visit http://www.prorehab-pc.com.
About ProRehab:
ProRehab is a private physical therapy practice with locations in Evansville, southwest Indiana and western Kentucky. Known for teaching and training physical therapists throughout the region, ProRehab physical therapists are proud that patients ask their doctors to send them to ProRehab for orthopedic care. They deliver hands-on physical and occupational therapy based on the newest research to achieve the best results for patients with bad backs, achy joints, wounded hands, and sports and work injuries. Along the way, the ProRehab family has fun and makes friends with their patients; patients are actually sad to leave after their treatment is over! Find ProRehab on Facebook, @ProRehab on Twitter, and FourSquare.
###