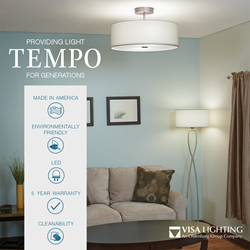 "This product line began as a concept several years ago during an Innovations workshop. I am so excited to bring Tempo to market, providing an elegant, energy efficient solution at a great price point." - Cindy Vera, Director of Sales & Marketing
Milwaukee, WI (PRWEB) December 03, 2014
This newest family of fixtures is ideal for projects like senior living, multi-family and hospitality. These projects are residential or residential-type settings where a sense of comfort and familiar are desired. These projects typically dictate lower price points and demand energy efficiency. Tempo has been designed with these needs in mind.
Tempo's beautiful luminous globe delivers a soft, even glow in color temperatures from 2700K to 3500K in 17 watt dimmable LED. The Tempo family is a durable Energy Star product line available only in LED. The LEDs are integral meaning additional cost is not needed for LED sources. Because these sources cannot be removed from these fixtures for use in other fixtures, lamp replacement costs are also not required, making these fixtures ideal for these residential-like commercial projects.
With sustainability in mind, these fixtures were designed to meet today's stringent energy codes without compromising the light output. The efficient 17 watt LED source provides between 2200 - 2400 lumens and has a life greater than 100,000 hours. In addition to energy efficiency, the materials and finishes featured in the Tempo family were chosen with sustainability in mind. Unlike traditional plated finishes, the five environmentally friendly alternative metal options are non-toxic to the environment and are made from recyclable materials. Tempo also includes thirty-two, No VOC, painted finish options.
These fixtures are easy to specify. There are two styles in the family: an elegant curved design and a rectilinear design to suit today's modern interiors. Shades are offered with cylinder or rectilinear options with either a fabric or vinyl-coated fabric for easy cleaning. The shades are interchangeable within the Tempo family providing flexible design options.
The Tempo family includes pendant and surface mounted luminaires for ceilings, as well as wall sconces, table lamps and floor lamps. The sconce with arm is ideal for bedside applications while the low profile sconce is ideal for hallway and other ADA applications. Choose a tasteful, linear style or an elegant, contoured style for your designs.
Tempo is a quality fixture that is moderately priced to meet the demanding environments and budgets of senior living, multi-family and hospitality environments. Made in the USA, each has a 5-year warranty, and built with the quality for which Visa Lighting is known.
Tempo — Sustainable. Affordable. Comfortable.