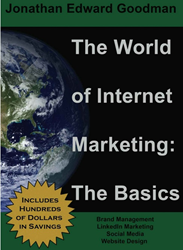 "With all of the updates and changes that Google is making in its search algorithms, it can be difficult for businesses to keep up. They may not understand why their websites aren't achieving their full potential." - Jonathan Goodman
Jersey City, NJ (PRWEB) November 21, 2014
Halyard Consulting is offering a website analysis to all entrepreneurs and small businesses starting Thursday November 27th through Monday December 1st. The analysis is designed to provide companies with information about their websites' performance. This analysis can help them see what they are doing right and areas where they can focus to improve their online presence.
Jonathan Goodman, the President of Halyard Consulting and author of The World of Internet Marketing, has created a special deal for the biggest shopping days of the year. Companies that want to know how they can improve their online presence and brand reputation can use this analysis as a basis for making changes in their website. Halyard Consulting is committed to helping entrepreneurs and small businesses succeed online and the best way to do that is to have a well built website.
The website analysis focuses on a company's strengths, weaknesses, opportunities and threats. The difference between the traditional approach and Goodman's analysis is that his focuses solely on the company's website and online presence. It is a powerful indicator of how successful a website is currently and what areas could be improved.
One of the factors that makes the analysis helpful to business owners is the fact that it looks at the competition and compares it to the company being analyzed. Goodman looks at domain authority and how the company performs on social media. He focuses on the top social networks, since they often carry the biggest impact for a business. He investigates the connection the website has in relation to other more powerful websites to determine if they are helping the search rankings.
In the analysis, Goodman compares the company with several of its biggest competitors. He creates a summary that lets the owners know where their company ranks and provides suggestions on how to make improvements that will impact the bottom line.
"With all of the updates and changes that Google is making in its search algorithms, it can be difficult for businesses to keep up. They may not understand why their websites aren't achieving their full potential." With the help of Halyard Consulting and the website analysis, Goodman can help these companies find out what they are doing right and where they need to improve. Goodman brings many years of experience to Halyard Consulting as well as the latest information on search rankings in order to provide relevant data and valuable suggestions for improvement that a businesses can implement.
Business owners interested in helping their company improve their online marketing but don't want to cut into their budget can take advantage of this offer from Halyard Consulting. The free website analysis only runs through the end of business day on December 1st.
About Halyard Consulting
Halyard Consulting is a New Jersey based Internet Marketing company focused on improving online results for businesses with geographically specific clientele. The company was established in 2007 to provide entrepreneurs with services allowing them to leverage online tactics often used by Fortune 500 companies. Gaining top ranking in the search engines is one of the most crucial aspects for Internet success. Small businesses used to rely solely on traditional marketing strategies like newspapers, commercials, and radio. Today, being visible online is the only true path to success.
About Jonathan Goodman
Jonathan Goodman is the founder of Halyard Consulting, an Internet marketing and public relations firm, located in New Jersey. Jonathan is the author of The World of Internet Marketing book series, written for small business owners, managers and others interested in cutting-edge marketing techniques. The first book in the series enables readers to take online marketing fundamentals and broaden revenue streams for their companies. Additional books to be released in 2015 will include critical information about YouTube marketing, Facebook advertising, and cloud computing.
Contacts:
Jonathan Goodman, President
Halyard Consulting
Phone: (800) 641-9157
Email: jgoodman(at)halyardconsulting(dot)com