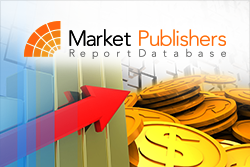 London, UK (PRWEB) November 21, 2014
As of 2013, Australia had 302,026 HNWIs which held USD 897 billion in wealth, with wealth per HNWI individual estimated at USD 2,969,371. The number of HNWIs in the country increased by just under 2.5% in 2013, following an almost 5.5% hike in the year-earlier period. The number of HNWIs that obtained their wealth via the financial services and investments industry surged by 78.5% during 2009-2013.
Over the forecast period, growth in HNWI volumes and wealth is expected to improve. The number of the HNWIs in Australia is projected to grow by around 13% to reach 349,154 by the end of 2018, whilst their wealth will likely grow by 28% to reach USD 1.2 trillion by 2018.
New market research study "Australia Wealth Report 2014" drawn up by WealthInsight is now available at MarketPublishers.com
Report Details:
Title: Australia Wealth Report 2014
Published: November, 2014
Pages: 117
Price: US$ 4,995.00
http://marketpublishers.com/report/business_services/wealth_management/australia-wealth-report-2014.html
The research publication provides extensive research and in-depth analysis of Australia's HNWI population and wealth management market. Comprising a broad diversity of data, the report gives a granular review of the performance and asset allocations of local HNWIs and ultra-HNWIs, provides an evaluation of the national wealth management market. The study includes a thorough analysis of the private banking and wealth management sector, latest M&A activity, and the major challenges and opportunities that it faces.
Report Scope:

Comprehensive market sizing of Australia's HNWIs across 5 wealth bands.
Key trends in HNWI wealth, volume and allocation, 2009-2013 including forecast figures to 2018.
Asset allocations of UHNWIs and HNWIs across 13 asset classes.
Granular breakdown of all foreign assets by geographic region.
Alternative breakdown of liquid as against investable assets.
Number of UHNWIs in key cities; number of wealth managers by city.
City ratings of wealth management potential and saturation.
In-depth assessment of the development, opportunities and challenges of the wealth management and private banking sector in Australia.
Market sizing of the domestic wealth management sector.
Leading private banks by AUM.
Overview of wealth management and family offices.
Analysis of the propellers of the growth in HNWI wealth.
More new reports by the publisher can be found at WealthInsight page.